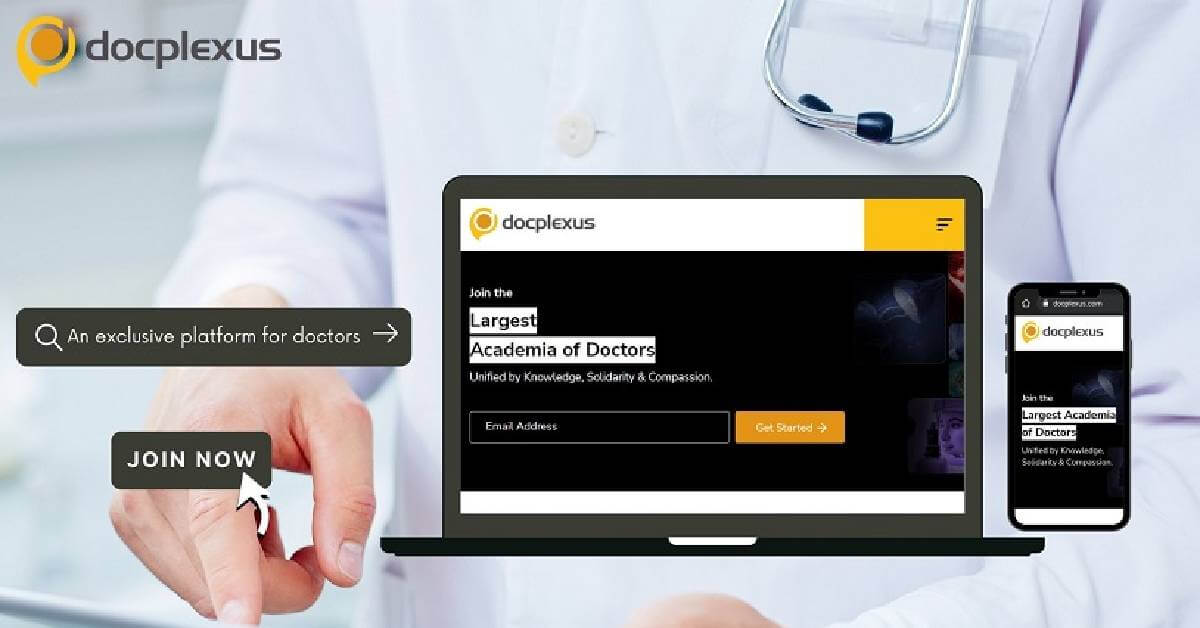 Docplexus is the largest and fastest growing peer-to-peer networking and knowledge-share platform for doctors in India. As of today, there are 3,80,000+ verified doctors on our platform and steadily growing with 2,500+ new registrations monthly.
It has become the most trusted and secure platform accessible exclusively for medical practitioners, offering real-time dialogue, interactions in clinical and non-clinical forums, knowledge centers, patient cases, treatment guidelines, certified educational resources and latest medical news.
We have experienced the way digitalization has transformed how information is shared amongst humans. The internet initially started as a means to obtain information, now the internet is not only a huge database of information but has also evolved as an essential tool for communication that connects people living in different parts of the world through virtual resources. This shift in technology in how we consume information has evolved significantly and is now set to bring about a revolution in the healthcare sector too.
In the early 21st century, social media started gaining popularity with the inception of platforms like – LinkedIn, MySpace, Facebook, YouTube and Twitter. Each of these platforms initially started as a direct communication channel and now these social media channels have been deep-rooted into our lives in such a way that we find them imperative for communicating among us. These platforms also introduced innovative ways of interactions for person-to-person and community-to-community communications.
Social Media and Its Relevance in Healthcare Sector
The boom in social media has encouraged many to find innovative ways in order to position themselves. The businesses too needed new approaches to adapt to these platforms so they could utilize them for new ways of marketing. Somewhat static marketing approach is now revamped into a much more responsive and dynamic approach in promotions.
Even though various sectors are moving to multichannel marketing, the healthcare sector is still laggard. Initially, it was assumed that the use of the internet is only for acquiring the information which mattered in research but now that notion is slowly but positively changing. Many pharmaceutical companies, who are also one of the largest stakeholders in the healthcare industry are trying to brace themselves for this emerging trend but are in a very tight situation due to reasons such as:
Strict external and internal regulations for marketing
Inadequate knowledge and experience
Fear of damaging the established brand
Pharma companies missed the first boat due to the apprehensions regarding social media. However, new innovative options are rising steadily to fill this gap. The most significant of them is contributed by a closed-community of the doctors.
As we already know, healthcare sector has three most important stakeholders:
Patients
Doctors
Pharmaceutical / healthcare companies
The doctors are considered as the most important stakeholder in the healthcare ecosystem. Similarly, doctors are the top contributors when it comes to pharmaceutical companies in order to market their products and aid patients for their well-being. As the regulations from NMC (National Medical Council) and guidelines for IFPMA (International Federation of Pharmaceutical Manufacturers & Associations) prohibits pharma companies from marketing their products directly to the patients, and hence doctors remain the most crucial contributors in the healthcare ecosystem. Docplexus recognized these insights and has built a platform exclusively for the doctors in India. Larger social media platforms such as Facebook show some really interesting core characteristics which can be incorporated in parts, in highly specific social media platforms for doctors.
Features of a Closed-Network Social Media Platform
It is important that social media platforms which specially cater to doctors, must have a benchmark that suits the interests and expertise of the doctors. It is important that the platform abides to the strict rules regarding the participation. Features which distinguish such platform are:
Stricter rules for registration: Rules of registration on these platforms need to be stricter than conventional social media platforms like Facebook, where a mere email address can grant access to a user. However, for the platform catering to the doctors, the registration is slightly more stringent. The doctors who want to register need to share their registration ID (which is then validated by the team) to gain complete access to the platform
Well-gated access to the members: The platform needs to be well-gated to ensure only qualifying participants are contributing to the highly specialized community
Adequate control on the content: As the platform is for professionals, quality control checks are rather crucial to check the content which has been posted. Here, the moderator team needs to keep a close check on content posted by users, evaluate the relevance and authenticity of the content and take necessary actions on whether or not to publish it
Generating suitable content: Social media platforms are dynamic and need a continuous flow of relevant content. At Docplexus, highly relevant content is generated regularly to stimulate community contribution.
Pharmaceutical and healthcare product companies also benefit from such a platform. The attributes mentioned above are in line to help both doctors and pharmaceutical companies alike. A mutually beneficial relationship between the patients, doctors, and pharmaceutical companies is bound to provide win-win outcomes for all. Most importantly the insights from such platforms provide ethical ways of facilitating each other.
What Our Learnings Tell Us
At Docplexus, we have gained vital discernments regarding the healthcare sector in India. The platform recognizes various factors related to users which are beneficial to pharma companies and devise more efficient, controllable and targeted approaches to marketing.
Some of key features that distinguishes Docplexus from other social networks are:
A virtual platform that aggregates a community of doctors at one place. Historically, the doctors had limited connection with other doctors across India. The new social media approach is bringing them to one virtual site, empowering the community. We have also observed that doctors now instigate setting collective goals with respect to their practice, issues, and concerns.
Associates the doctors of specific specialty and interests with each other. These doctors based across India can be easily identified as per their specialty by pharmaceutical companies and their needs can be adequately addressed
Assists in collaboration between the doctors. Doctors often stumble across difficulty in clinical treatment of patients. A large number of doctors have started sharing their expertise and views regarding clinical difficulties other doctors face. As the platform also actively protects patient identity, essential knowledge is shared between the doctors without any hesitation. Pharmaceutical companies have great potential to collaborate with doctors in this particular area. It is possible to identify the areas of concerns for the doctors which pharma companies can address. This symbiotic relationship thus helps the doctors' community as they are provided with additional knowledge and resources
Adoption of best practices and therapies in healthcare. Doctors on Docplexus strive to promote best practices and therapies that they feel are suitable for their peers. Often these practices are specific to a particular drug regimen or a device that gave them better results. Additionally, the platform provides an opportunity for pharma companies to identify and promote these practices. Most importantly, online reputation is very crucial for doctors. Hence, they only recommend the practice and the drug they have tried, tested and have benefitted from. Pharma companies can assist these doctors ethically in their clinical endeavors by addressing clinical problems
Assists in knowledge sharing amongst the doctors. Most of the doctors are satisfied when their professional, practice-related and educational issues are resolved. Continuously generated relevant content assists doctors in remaining informed and up to date with the latest news. This not only provides an opportunity for pharma companies but also to other knowledge providers, to deliver content on demand.
How Do We Help Our Pharma Partners with Digital Marketing
By aiding the doctors in their specific needs, pharma companies can now build their brand more effectively and ethically. Docplexus offers an exclusive access to unique and genuine customer insights on perceptions, attitudes and behaviours of the medical community. Healthcare and pharma companies profit from exceptionally innovative, engaging opportunities that drive best-in-class relationship-oriented customers and KOL interactions, case studies and insights.
At Docplexus, we are on an endless quest to help pharma companies transform their version of the New Commercial Model into actionable programs that are result-oriented.
---
Docplexus – Pharma's Trusted Marketing Partner
Enquire details
Comments