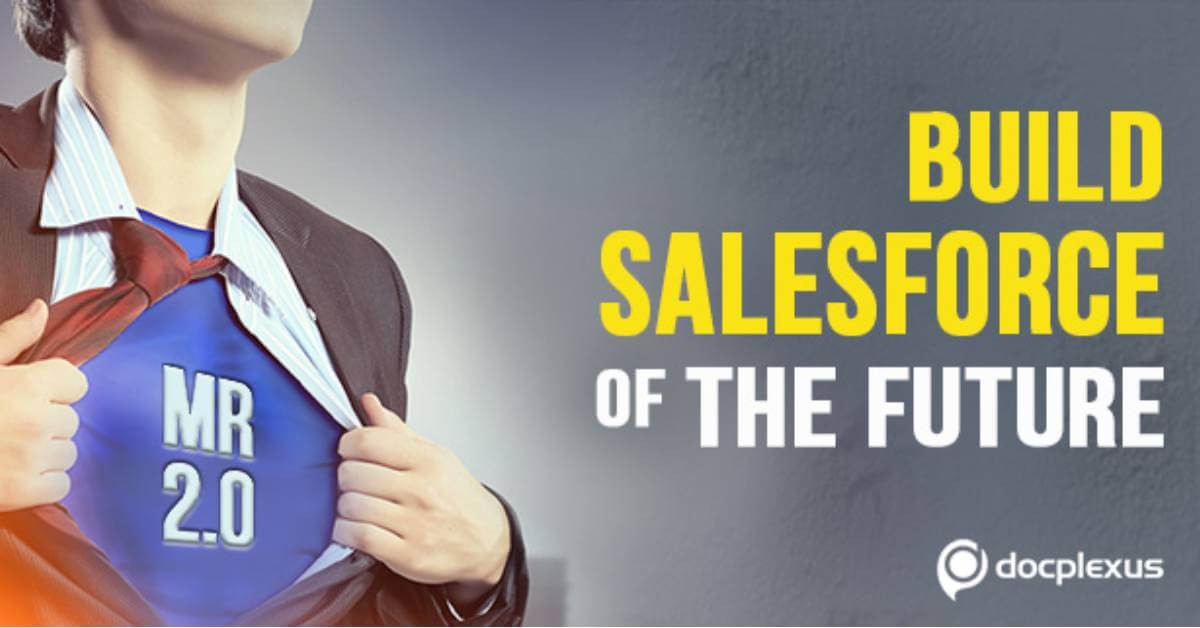 We are all familiar with the stereotypical salesperson from pharma companies who patiently waits for their turn at the doctor's clinic. Popularly known as MRs (Medical Representatives), these professionals have dominated the Indian pharma industry's "medico marketing" efforts. Top Pharma players employ a field force of around 5000 and reserve close to 20% of their total expenditure on hiring and training them. A whopping 60% of the total promotional budget is allocated to field force activities.
However, doctors are far from impressed.
A survey done by Docplexus, was aimed to understand the dynamics of the doctor-MR relationship and revealed that 68% doctors do not want to meet MRs more than once a month, with a majority claiming that such meetings do not add any value to their clinical practice.
Where exactly is pharma going wrong? Why is the "backbone" of pharma marketing breaking?
While regulatory, scientific and technological changes are transforming the doctors' world, pharma companies haven't really changed the way their field force engages with the medical community. Even the way they engage with KOLs needs to be modified, especially post COVID-19. We recently wrote an article regarding the changing dynamics of KOL engagement. You can read it here.
With the government planning to enforce the UCPMP Code, the conventional, incentive-based marketing approach could soon become a thing of the past. MRs will then have to strive for 'meaningful discussions' aimed at facilitating better treatment outcomes.
Today's doctors have a plethora of online resources to learn about new drugs. In the ePharma Physicians Annual Study, 51% doctors said that they are already aware of the drug information that MRs provide. They now expect MRs to go beyond the basics and deliver higher value to their practice. With rising focus on evidence-based medicine and personalized treatment plans, doctors are hopeful that their next meeting with MRs involves a more scientific dialogue. Rising medico-legal cases in our country are also driving doctors to gain a complete understanding of the drugs they prescribe.
While the medical community has grown comfortable with digital tools, many pharma companies are yet to come up with a comprehensive digital plan that also integrates with field force activities. This has left doctors extremely dissatisfied. They need to create customer journeys that encourage "Physical+Digital" interactions with Doctors. You can learn more about designing customer experience here.
The MRs themselves are quite unhappy. Today's MR is living in uncertain times, fearing professional redundancy and irrelevance.
MR 1.0 – A Disillusioned Lot
There are several reasons for the current discontent among the Pharma field force:
High focus on sales targets – Excessive focus on meeting sales goals at any cost exerts undue pressure on MRs. They usually adopt a myopic view for doctor meetings, with most discussions revolving around incentives. Most MRs have little inclination to solve actual problems facing doctors. Their communication fails to convey Pharma's commitment to better patient outcomes, a topmost priority for doctors. This limits the impact of their interactions and leads to poor performance.
Science vs sales confusion – Most MRs begin their careers hoping to make the best use of their scientific knowledge for the benefit of doctors and patients. However, they end up spending more time waiting in doctors' clinics rather than contributing to better treatment outcomes.
Inability to meet doctors' needs – Low product differentiation, stiff competition and high market potential have led pharma companies to employ vast armies of field staff, often overlooking necessary qualification and expertise. Companies admit to hiring candidates from non-science backgrounds to meet their workforce requirements. Currently, only 1/6th of all field personnel are post-graduates in pharmacy and also hold marketing degrees. As therapies grow more complex and drugs become more niche, a large group of sales personnel is destined to fail. Poor adoption of digital solutions by their employers has also left MRs disappointed. Studies reveal that a majority of MRs in India are not equipped with CRM systems, meeting schedulers, digital medical content or closed-loop marketing solutions. Pharma companies need to upskill their personnel in digital marketing. Our 'Digital Marketing Playbook For Pharma' might help them in this regard.
Rising insecurity – Pharma's VUCA environment has left today's MRs deeply concerned about their jobs. Caps on drug pricing are adversely affecting pharma profits, forcing companies to revisit their cost structures. Growing focus on ethical marketing will require MRs to unlearn deep-rooted practices and adopt a purely knowledge-based mindset while communicating with doctors. Possible enforcement of Generic Drug Prescriptions would endanger over 6 lakh MR jobs. Digital adoption could also lead to restructuring and redefining of job roles.
A major re-haul is necessary if MRs have to stay relevant to the medical community.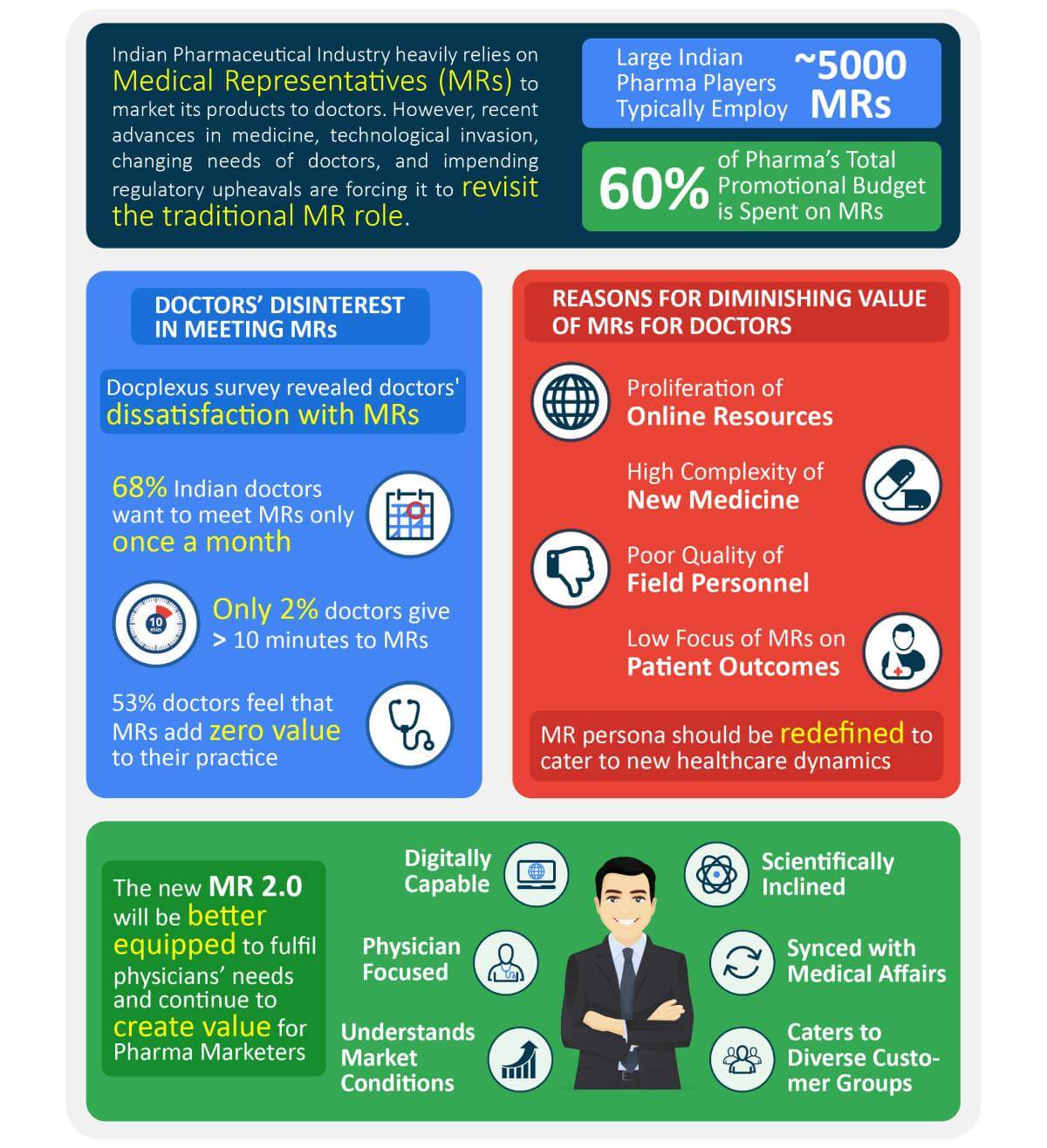 MR 2.0 – From Obsolescence to Relevance
New industry dynamics call for pharma marketers to let go of the erstwhile MR 1.0 and embrace the brand new MR 2.0 – an empowered professional who leverages multiple channels to conduct a scientific dialogue with a diverse set of customers, ultimately helping create better medical outcomes.
For this to happen, marketers should:
Hire fresh blood and re-skill existing workforce – A Sermo survey notes that 67% of all doctors would like MRs to talk about clinical studies and evidence-based medicine help physicians make prescribing decisions. A majority also wished for a more educated, better-trained field force. Pharma must hire qualified people that can match knowledge with doctors. A rigorous evaluation process that assesses candidates on four dimensions – Personality, Knowledge, Analytical Abilities and Problem Solving Skills, is recommended. Existing staff should be upskilled to "Partner" doctors in healing patients. While sound product knowledge is a must-have, MRs should also be aware of the overall organizational strategy and vision. They should be trained in digital tools and social media "listening". Rather than have the same set of people deal with doctors, stockists, retailers and institutions, pharma should nurture specialists for each segment.
Prioritize retention – It is not uncommon for doctors to have an MR pushing one brand for a month and then returning the next month only to promote a rival company's products. High attrition of field force does not allow pharma to build a strong association between doctors and their brands. Another downside of job change is that the doctors start receiving similar messages from multiple brands which adds to their disinterest. Pharma should take steps to curb attrition by introducing employee-friendly policies, offering a clear career progression and improving job satisfaction. GSK's move to incentivize MRs' focus on knowledge rather than sales targets is a step in the right direction, for both, the MR and the doctor.
Place physicians (NOT product) first – Gone are the days when a decent product was enough to drive prescription rates. Today's doctors expect a more comprehensive approach coupled with personalized engagement, which means Physician-centricity is not "option" anymore. MRs need to provide exactly what doctors want. Smart Pharma Consulting categorizes doctors into three groups – information seekers, service seekers and emotion seekers. Such classification helps MRs to tailor their messages according to specific needs of doctors. A "physician-first" strategy also involves prompt responses to queries and requests, transparent product detailing and maintaining a constant connection.
Go beyond the pill – Pharma should position itself as an "equal partner" in improving healthcare delivery. Better patient health is the highest priority of doctors. Patients too expect doctors to inform them about services that are beneficial to them. Pharma should make doctors' jobs easier by having MRs update them on patient-focused services such as patient assistance programs. MRs could also offer assistance and guidance while dealing with other healthcare stakeholders like Clinical Health Educators. They could assist physicians in accessing the latest research, enrolling for industry-sponsored CME courses, and finding their bearings in the new world of augmented reality, robot-assisted surgeries, and telemedicine.
Cater to other stakeholders – Indian retail pharmacy chains are expected to go beyond drug distribution and venture into health management, potentially having a say in which drugs are prescribed more. Other emerging customer segments in the country are healthcare authorities, patient-advocacy groups, payers and institutional administrators. Pharma should create a new band of personnel capable of interacting with these new entities that are set to alter prescriptions by influencing therapy approvals and treatment protocols.
Ensure coordination between sales and non-sales functions – Organizational silos create inefficiencies and compromise customer experience. To fully serve specific needs of a broadening group of entities that influence prescriptions, Pharma should break down information barriers and establish a culture that promotes and rewards collaborative efforts. It should adopt technology that facilitates seamless interaction of sales with related functions like marketing and medical affairs. This will arm its field force with all the intelligence needed to forge strong bonds with every customer group.
Befriend digital technology – Digitization is the MR's friend, not foe. In reality, digitization helps MRs take their personal relationship with doctors to the next level by equipping them with analytical insights leading to more fulfilling interactions. Neutral digital platforms like Docplexus help Pharma "listen" to doctors' unbiased opinions and maintain continuous engagement. However, Indegene's Digital Savvy Healthcare Sales Rep 2019 Report notes that the Indian pharma industry is way behind its western counterparts in adopting digital solutions. Some companies mistakenly equate digitizing with e-detailing. E-detailing is just one element of a broader, more comprehensive digital strategy. Digital should become a mindset across functions and hierarchies for it to truly benefit pharma-physician engagement. Docplexus' digital marketing solutions such as product launches, webinars and continuing medical education programs have added to the efforts of its clients' field force.
Make content the KING – A study conducted in Mumbai revealed inconsistencies between MRs' discourses during meetings, information present in flip charts, and contents of detailed literature. MRs often do not have any leave-behinds for doctors to use later. Pharma should immediately discard these practices and develop authentic and relevant content that is concise and easily accessible in digital format. Docplexus ensures that its medical content is crisp, yet credible and useful.
With the areas that can be tapped and measured through digital tools, it's now integral to be present on platforms where HCPs are most likely to engage as they now have a different expectation to get themselves acquainted with the latest news in the healthcare sector.
The world after the COVID-19 pandemic has different dynamics but within the new normal setup, personal interactions between HCPs and MRs have started happening again. Pharma companies should encourage the adoption of tools and technologies to help integrate the Physical+Digital interactions between MRs and HCPs. Whether the objective is to improve the footprint to a wider geography that does not have the physical reach of MRs or to deeply entrench the doctors with frequent engagement through innovative, targeted formats, to create meaningful connections  – Virtual engagement is here to stay and digitization is the future!
Thus, the MR 2.0 will play a vital role in Pharma's inevitable transition from a "Sales-Only" to a "Sales + Service" Engagement Model in the new landscape.
Suggested Reading – Designing Customer Experience For The New-Age Pharmaceutical Product Launches
Enquire details
Comments