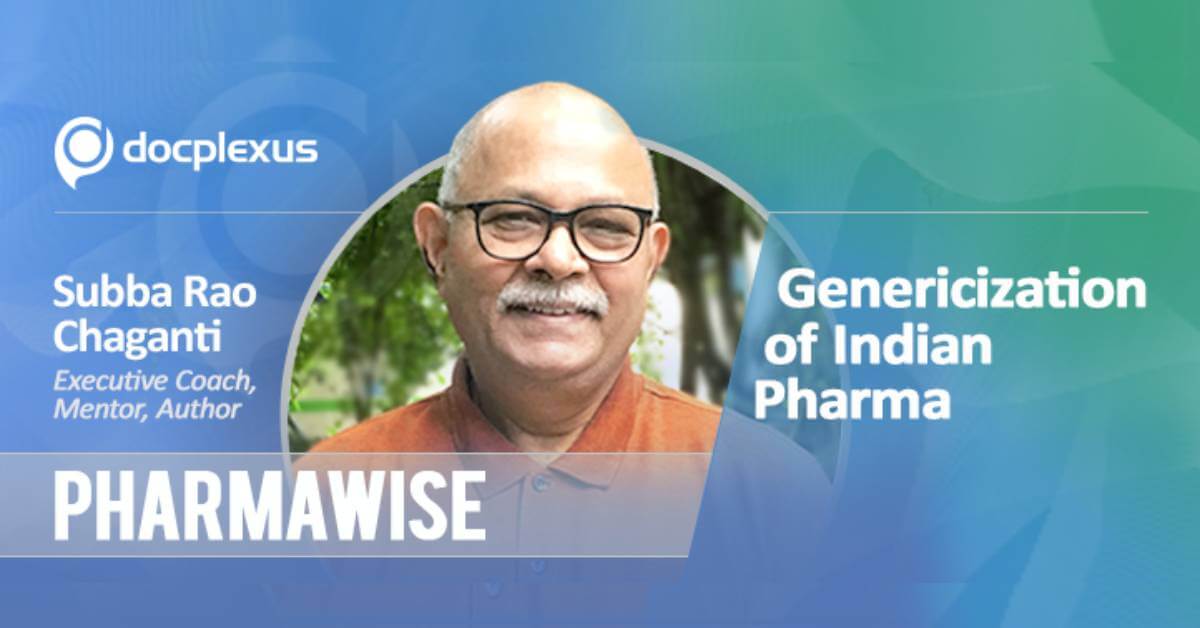 The Indian government's intent to make generic prescriptions mandatory has sparked heated debate among healthcare stakeholders.  While some see generics as the route to affordable treatment, others raise questions over their safety and efficacy. In this episode of PharmaWise, Mr. Subba Rao Chaganti, Ex-Director Marketing, Sun Pharmaceuticals, dispels the popular misconceptions around generic drugs sold in India.

Interviewer:  Mr. Chaganti, what are your views on Indian Government's push for generic drugs as a way to curb healthcare costs? Is India ready for a 'generics-only' scenario?
Subba Rao:  While the government's initiative to bring down the prices of generic drugs is laudable, the theme is nothing new. What's new is that the prime minister's announcement that legislation on generics-only prescription by physicians is underway. For over three-and-half decades, every government has been making resolutions to bring down the prices of drugs and making healthcare more affordable even to the very poor. All attempts and efforts till date towards ensuring generic drug prescriptions in place of branded generics have been in vain.
Why did the earlier attempts to make physicians prescribe generic drugs instead of branded generics fail? Will the proposed legislation to make generics-only prescriptions mandatory achieve what the previous efforts did not? Let us briefly consider the factors that affect generic prescribing behavior and reasons for our lack of success so far in this regard. Factors that positively affect the generic prescribing behavior are a patient's financial status, patient's welfare, compliance, and fear of punishment. Factors that negatively affect the prescribing behavior are — quality concerns, poor recall of generic names, patient's preference, and personal experience.
Is India ready for a 'generics-only scenario'? I don't think that India is prepared for such a move every which way you look at it. Consider some of these reasons, for example:
Most of the retail pharmacies in the country do not have qualified pharmacists to dispense in a generics-only scenario.
The country has no system that is comparable to international standards to assure the quality of all the generics manufactured in the country. Who is responsible for the quality of generics produced and dispensed?
When physicians prescribe a generic drug, they prefer the ones manufactured by a company which follows Good Laboratory Practice and Good Manufacturing Practice regulations. The government's decision to push doctors to prescribe a generic drug puts them in a difficult situation. They have to take responsibility for the drugs they prescribe without knowing for sure whether they are of acceptable quality as they do not know the source of the dispensed prescription, and whether the manufacturer practices and conforms to the GMP standards.
About 50% of branded generic drugs are combination products having two or more molecules in the same drug. They cannot be prescribed as generics as it would be too complicated.
Interviewer:  How will the 'generics-only' policy in its current form affect public health in the long run?
Subba Rao:  The 'generics-only' policy, if implemented in its current form, may reduce the prices, but will adversely affect patient outcomes in the long run. As Bejon Kumar Misra, an expert on patient safety and quality of healthcare delivery mechanism in India says: Come 2020, the NCD (non-communicable diseases) burden will be responsible for 73 percent of deaths and 60 percent of disease burden in India. A low-quality drug delays recovery time weakens the immunity system by a longer duration of dosages and invites co-morbidities. Substandard medicines may promise affordable healthcare in the present, but in the future results could be catastrophic. Relying on generics alone can be counter-productive in the mission to make India disease-free.
Interviewer:  What are the major implications of genericization for the pharma industry? How can companies brace themselves for a 'generics-only' scenario?
Subba Rao: With virtually every government in the world trying to contain the healthcare costs, genericization is perceived mistakenly as a cure-all for the ills that healthcare is suffering from.  Genericization increases the pharma industry's risk profile considerably.  It is difficult to predict precisely what will happen to the Indian pharmaceutical industry in the long-term. However, there are two plausible scenarios — A Sunrise Scenario, which is optimistic and a Sunset Scenario that spells decline.
Sunrise Scenario: The Indian pharmaceutical industry will rise to the challenge and make the necessary structural changes to realize the opportunity of moving up in the evolutionary cycle – from a branded-generic drug industry to Specialty Pharma, and the Research-based pharmaceutical industry. The top 20 and odd companies that have taken the bull of DPCO by its horns and evolved as international generic companies in less than 20 years. These companies will be able to do that again. Already about half of these companies are gearing up themselves to meet the emerging challenges in the first-world generic markets such as the US. They are focusing on value-added specialty generics and are even trying to launch their molecules. They are likely to exit from the low-margin generics and focus on their transformation into Specialty Pharma, and Innovative drug companies.
Sunset Scenario: Exclusive genericization is a possibility since the present government is in the driver's seat with an unprecedented majority. Passing the legislation, therefore, is a cakewalk. However, such a move could have some severe consequences for the Indian pharmaceutical industry. It, along with the attitude of the government on compulsory licensing, will increase the risk profile of the industry. FDIs in the pharmaceutical industry will reduce considerably. Collaborative research, too, can come to a grinding halt, which is crucial for the Indian pharmaceutical industry at this stage of its evolution. The industry's dream run of exports too could slow down. The industry's profitability could adversely be affected, reducing its ability to invest for the future development and evolution to become a specialty Pharma and research-based industry.
While the challenges that pharmaceutical companies have to face in the event of a forced genericization will be severe, following moves could help them tide over the situation –
Exit from some generics that are less profitable and introduce novel formulations of those generics which offer significant benefits to patients. Launch more rational combinations with major therapeutic advantages.
Build value-adding services around and beyond the pill.
Help the physicians more proactively than now in their efforts to educate patients and raise their awareness about their diseases.
Help improve adherence to treatments in chronic diseases such as diabetes, cardiovascular, and neurological conditions.
Move into biosimilars.
Embrace digital channels to engage all the key stakeholders such as physicians, pharmacists, hospital authorities, and payers where necessary.
Interviewer:  What systemic changes are needed before we enforce the use of generic medicines?
Subba Rao: The latest genericization move aims at treating the symptom of Pharma-physician nexus and bringing down the prices of generic drugs. What one needs is to treat the cause, not just the symptoms. We need to get to the root of the problem and treat it. Let us consider the following factors that are responsible for the Pharma-Physician nexus and formulate strategies and policies to remove them.
Too Many Brands, Loan licensing, and Pharma-Physician Nexus: When you examine the current loan licensing scenario in India, you would observe there are too many branded generic formulations in the market. There are about 92,000 branded generic formulations today. The objective of a loan license should be to augment the current manufacturing capacity. It should not be a path to get higher margins. Today it is very easy to start a pharmaceutical company. A pharmaceutical representative, manager, or for that matter, a physician or a group of physicians with sizable clinical practice can start a company. They can approach a drug manufacturer with a fast-moving generic formulation and get it manufactured under the loan licensing system. They enter into a contractual relationship with some physicians, who can prescribe a pre-determined quantity of prescriptions for select products for a mutually agreed consideration of cash or kind. Most of these marketers have no intention of manufacturing these products anytime in the future. Naturally, transactional marketing arrangements like these are not difficult to copy as there is no customer loyalty and trust behind them. There are always competitors who have deeper pockets and can easily convert these prescribers towards prescribing their products by increasing the transactional sum. This leads to a continued escalation of marketing costs at the expense of patients.
Regulatory Standards: India's current drug regulatory mechanism, like other regulatory systems, are known for their inherent inefficiencies and inadequate infrastructure. That brings us to the next question concerning the quality of the generics. In the US and other highly regulated markets, there are very stringent quality control measures to ensure that the generics are effective in treating the patients. Generic drugs should be comparable with the respective innovator drugs in for their bioequivalence and bioavailability. Moreover, the generic applicant should conduct this test at the US FDA approved laboratory only. All this costs a lot and puts an entry barrier for fly-by-night operators. Contrast this with the current scenario in the Indian drug regulatory environment. The technical infrastructure is grossly inadequate for quality testing and certainly not comparable with the West with whom we want to align. Most of the generic-generic formulations are not tested comparing them with the leader of the branded generic formulation or the brand-name drug for bio-equivalence, and yet they are approved. Many of these drug companies do not have a manufacturing facility that conforms to and approved by WHO GMP (World Health Organization's Good Manufacturing Practices). Under the loan licensing system, anyone with less than a million rupees can start a company marketing his own version of generics. As a result, there are these PDC (propaganda-cum-distribution) companies competing at the national, regional, and local level. How will the DCGI ensure that the patients get the same quality of generic-generic that is identical to that of the brand-name drug? A brand-name manufacturer has to assure quality as his entire reputation is at stake. What does a generics-only manufacturer have?
Continuous Escalation of Medical Education Costs: Pharma-Physician nexus is deepening by the day and along with is the increase in irrational prescribing and prescribing of expensive branded generics. More and more physicians are entering into contractual obligations to prescribe a particular quantum of prescriptions for a negotiated consideration of cash or kind. Even some young super-specialists, who are starting to set up clinical practice are already entering into negotiations with Pharma firms. The reasons some of them cite are — The escalating costs of medical education with exorbitant capitation fee for postgraduate admissions in private medical colleges. A super-specialist would have spent about INR 20 to 30 million in a private medical institution. Because the seats in government medical institutions are very few. He also is most likely to be in his thirties by the time he sets up his practice. His entire focus right from the day he joins the workforce is on how to maximize his return on investment. Neither the government nor the Medical Council of India seems to do anything to curtail the capitation fee system in private medical colleges.
Shortage of Qualified and Trained Pharmacists in Retail Pharmacies: There are over 750,000 retail pharmacies in the country. Most of these do not have a full time qualified pharmacist on their premises. Without adequate knowledge of the drugs, they are supposed to dispense generic prescriptions.  How do you expect the majority of chemists to dispense the generic prescriptions correctly?  What is more, the curriculum at the graduate level in our pharmacy courses does not include many of the new drugs that are recently developed. Empowering the not-so-qualified pharmacist to dispense generic drugs can do more harm than good to the patients.
Breaking the Pharma-Physician Nexus or Creating a New Pharma-Pharmacist Nexus? Think for a moment what is the root cause of this problem. When you look at the hierarchy of pharmaceutical products, innovator or brand-name drugs are at the top with the maximum product differentiation, which enables them to command a price premium. Next, in the pecking order are value-added generics such as drug delivery products of the same molecule. These novel drugs have a patentable degree of differentiation, which helps them get some price premium. Branded generics are next in line with a smaller degree of differentiation in terms of quality perception, availability, customer service, etc. Generic-generics are at the bottom with a commodity status with virtually no differentiation. When there is no product differentiation, gratification rules the strategic roost. That explains but doesn't justify the unabated corrupt practices by drug manufacturers in wooing the prescribers. Legislation on generics only prescription by physicians is unlikely to end the Pharma-Physician Nexus. But the most dangerous outcome of this move is that it will undoubtedly give more power — the power of therapeutic substitution of a prescription to many of the not-so-qualified retail chemists who would dispense the drug on which they get the best margin. Pharmaceutical companies may target these chemists and win them over to push their generic drugs over the competition in the ways that they know best. It may not stop the Pharma – Physician Nexus totally, but it certainly will facilitate a new Pharma – Pharmacist Nexus!
Absence of Good Governance: Good governance is lacking. The government has been unable to ensure compliance from all the stakeholders despite the presence of well-defined Acts governing the manufacturing and selling pharmaceutical products in India, such as the Drugs & Cosmetics Act, Voluntary UCPMP (Universal Code of Pharmaceutical Marketing Practices), MCI (Medical Council of India), Another legislation is unlikely to have any more significant impact when governance falls short of its objectives and purpose. 
Interviewer:  Do you think that price differential between branded-generics (well-known drugs from leading pharma companies) and other generics (lesser-known drugs from small scale players) sold in India is justified? Why?
Subba Rao:  A significant few among the leading Pharma companies account for the bulk of the exports made by the country. There about 25-30 companies that have been making rapid strides in keeping India's pharmaceutical industry as a leader in the global generic drugs arena. They continuously invest in technology and R&D to stay globally competitive. The quality of their products is of international standard. Some of these companies spend close to 10 % of their sales on R&D to develop Novel Drug Delivery Systems (NDDS) for providing better and safer formulations. And all these efforts cost money and push the cost of production. Whereas, many of the small-scale players do not even invest in manufacturing facilities that conform to WHO GMP. That should explain, and justify the price differential between these firms.
Interviewer: Why haven't we been able to maintain uniform quality standards for our drugs across our country?
Subba Rao: We probably never felt the need or never thought that it is essential. It is not our priority. We are carried away by the way the Indian pharmaceutical industry has grown to be a pharmacy to the world. The Indian Patents Act of 1970, of course, has been a great catalyst. It helped the Indian pharmaceutical industry to catapult itself into the top league as far as the world of generics is concerned. However, we should not forget that only a significant few — about less than 50 pharmaceutical companies in the private sector are almost entirely responsible for this contribution.
The possible reasons for not being able to have uniform quality standards are there for everyone to see. The departments that are responsible for assuring quality in the manufacture of drugs and their control in distribution and administration are grossly understaffed. Even scientific and technology infrastructure is inadequate. The departmental laxity in controlling what needs to be controlled is also partly responsible for the current state of affairs.
Interviewer: Should India adopt GMP laid down by the USFDA for its domestic market?
Subba Rao:  Absolutely! Because that is the only way to assure uncompromising quality of medicines to all patients in the country. It is likely to increase the costs of generic drugs.  But then it is the health of the patients that is more important, that is more valuable. It is the duty of the government to assure the quality of medicines to its population.
Interviewer:  Is there an alternative approach to making medicines more affordable and accessible in India?
Subba Rao: A quick look at the cost structure of branded and branded-generics formulations would show that taxes account for about 35 %, and trade margins for 30 %. The leading companies' net profitability is between 15 – 20 %. Some of the leading pharmaceutical companies have started investing about 7 – 10 % of their sales on R&D to stay globally competitive and move up the industry-ladder to become research-based pharmaceutical companies. The government, for example, could forego taxes and implement a transparent procurement policy towards procuring quality-assured generics for the Jan Aushadhi program and bring down the prices by 60 – 70 %. Additionally, the government may cap the number of licenses for generic formulations under each molecule in the NLEM (National List of Essential Medicines).
Interviewer: Thank you, Mr. Chaganti, for the insights.
Subba Rao:  My pleasure!
Enquire details
Comments