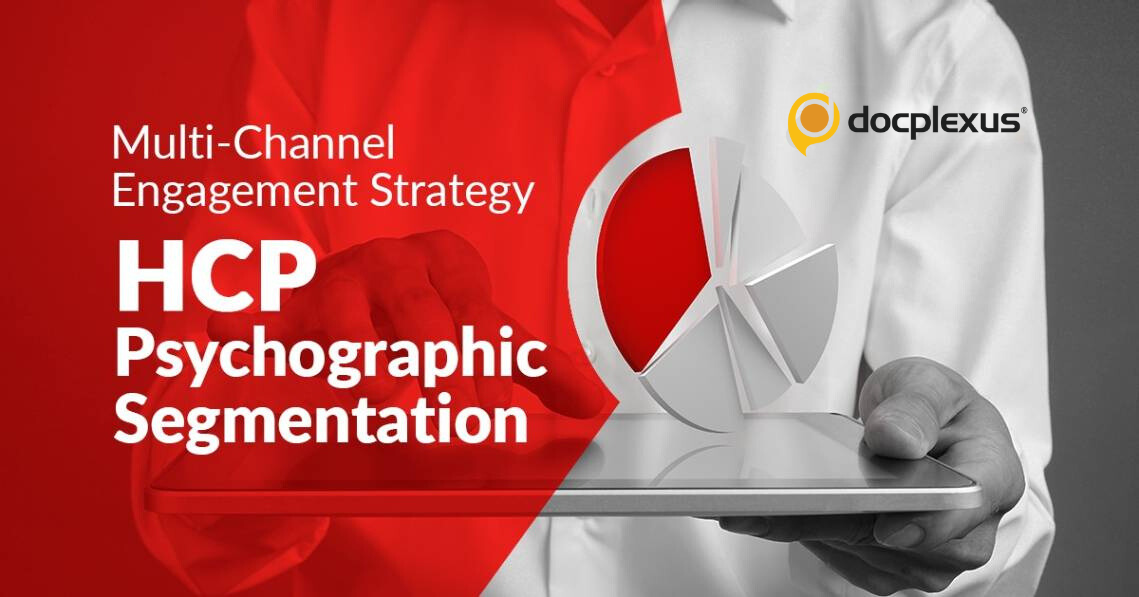 HCP engagement sans digital channels is one of the simplest communication models.
A sales executive making a "clinic visit", striking a clinical dialogue based on the physician's behavioral traits (prescribing habits, brand loyalty, etc.), and encouraging adoption. It's all tactical, smooth, and involves traditional HCP segmentation.
Now digital adoption is accelerating among doctors, and their relationships with sales executives/MSLs are revolving more around customized interactions and "Knowledge Sharing", instead of being transactional.
In this expanding and evolving ecosystem, a multi-channel engagement strategy is indispensable. But does this strategy require additional layers of HCP segmentation? Absolutely!
Doctors' shift to online platforms to fulfill their clinical-educational needs, demands personalization. It requires you to share medical insights/information with HCPs based on their intent, using:
i) Preferred digital channels.
ii) HCP-friendly content formats.
This is how you can successfully bring them into your multi-channel engagement funnel and deliver clinical value. To achieve such a level of personalization and create highly-targeted campaigns, only behavioral segmentation won't do. You need to delve into the psyche of HCPs and accordingly create their customer journeys, to improve brand adoption.
The conventional criteria for HCP segmentation
For most verticals, customer segmentation is usually done for online campaigns, where the marketing or sales teams don't have person-to-person interaction with the prospects.
This is where HCP segmentation is different, as MSLs or sales executives of pharmaceutical/medical device companies usually prefer in-person interactions with doctors. The emphasis is not much on multi-channel engagement, and the segmentation is based on HCPs' behavioral traits like:
i) Brand loyalty
ii) Prescribing habits
iii) History of previous interactions
Why this approach requires some rethinking and remodeling?
It is a rather simplified way of looking at HCPs, and the overall approach is brand-centric instead of customer-centric.
This approach which works best when your goal is to establish transactional relationships, and "clinic visits" is the preferred mode of interaction. You can personalize your clinical dialogue and achieve your goals by simply knowing the prescribing habits/history of physicians.
But what if you want to explore different digital channels like emails, multi-panel webinars, e-conferences, etc.? Will the knowledge of HCPs prescribing habits be enough for a fruitful engagement?
Not exactly.
i) You will need to understand the stage at which your target HCPs are in their professional journeys.
ii) You will need to know their intent/professional goals before striking clinical dialogues.
iii) You will need to decipher the content formats that suit their requirements and content-consumption patterns. Do they prefer scientific articles over infographics? Do they consume video content more often? and so on.
And for all this to happen, you require psychographic data to customize your communication and make it clinically pertinent for HCPs. In other words, you need to delve into the psychological traits of physicians.
Getting to the most accurate psychographic segmentation of HCPs
The whole idea is to consistently engage HCPs inside an expanded ecosystem that includes a multitude of digital channels, without losing out on:
i) Personalization
ii) Clinical Value
iii) High-ROI
So, which method should you follow to decipher the personality types or psychological traits of HCPs?
You may be tempted to look into:
i) Myers-Briggs Personality Categorization
ii) Empathy Scales
iii) Extraversion and Introversion Scores
But in the case of HCPs, sticking to any one of the above models won't give you the best results. For example – It has been observed that HCPs who are patient-centric, communicate freely with pharmaceutical companies, irrespective of their extraversion or introversion scores.
Therefore, it's better to go for an exclusive psychographic segmentation. You can refer to the HCP Archetypes defined by McKinsey (based on psychological traits). It's a perfect segmentation model to follow and create your multi-channel engagement strategy. Here's our snapshot describing those archetypes.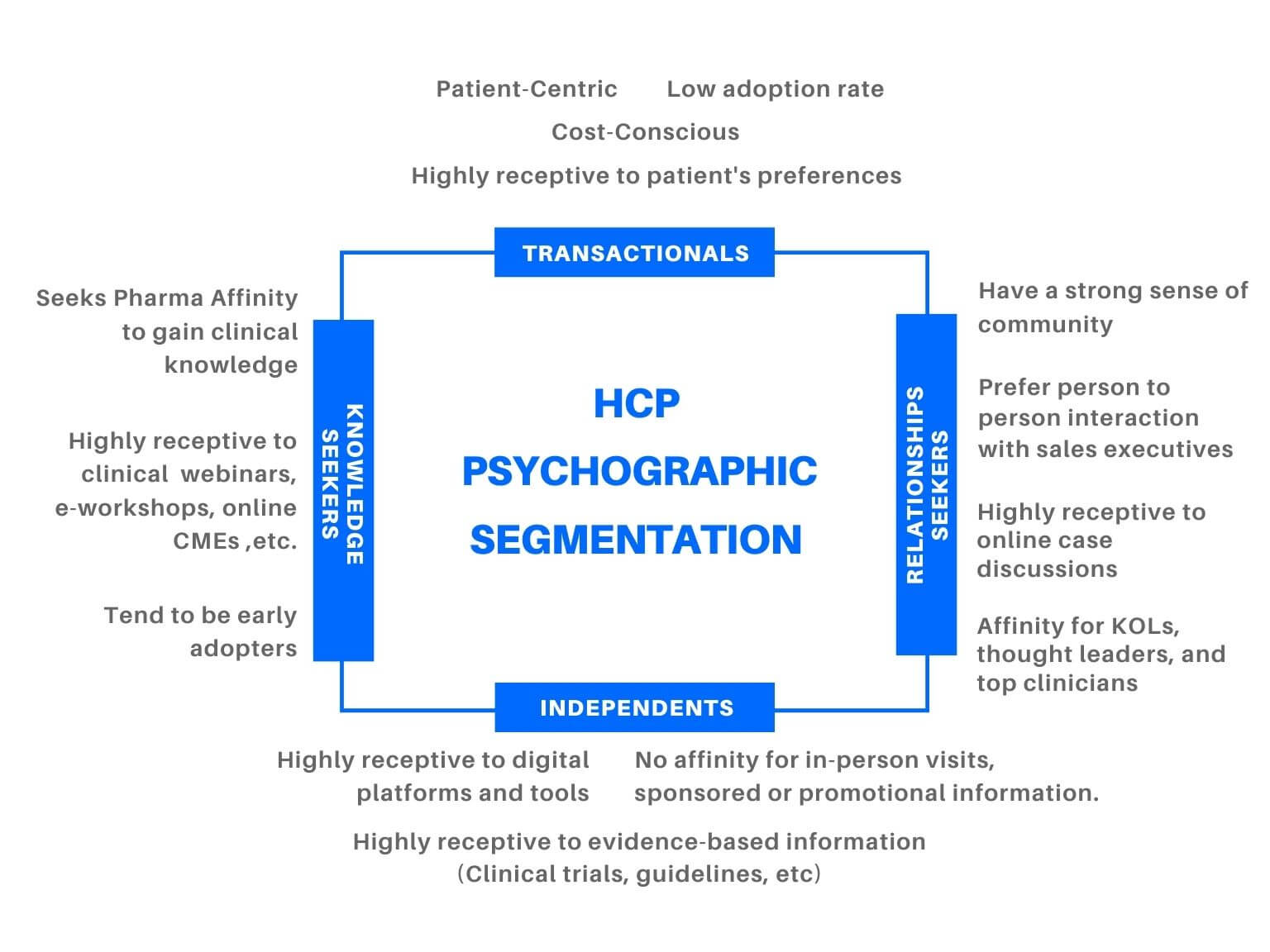 How can you digitally engage with each archetype to maximize your brand's outreach and improve brand adoption?
i) Knowledge seekers
They are not a fan of transactional or incentive-driven interactions, and therefore they don't prefer in-person visits by sales executives.
They spend more time on "knowledge sharing" online platforms, to enroll for CME courses, clinical webinars, masterclasses, workshops, etc.
But the good news is – You can make the in-person visits of your sales executives fruitful for this archetype. Before your sales executive visits HCPs, you can share an infographic or a research snapshot via email on your latest drug. This way you can set the context for a genuine, clinical dialogue. After the visit, you can send them email invites to join multi-panel webinars hosted on "doctor-only" platforms like Docplexus.
ii) Relationship seekers
They have a strong sense of community and are always looking to connect with KOLs, thought leaders, and top clinicians.
They prefer in-person interactions to remote engagement, being less proactive when it comes to digital adoption.
Still, if you want to reach out to them via digital channels, then it is important to understand their psyche and choose the right medium to deliver your clinical information.
For example – You can invite them to KOL interviews, International Web Summits, or e-conferences, that you host online to discuss treatment protocols, therapeutic advantages of your latest drug, and much more. It can provide them with a good opportunity to connect with thought leaders and specialists from different therapy areas.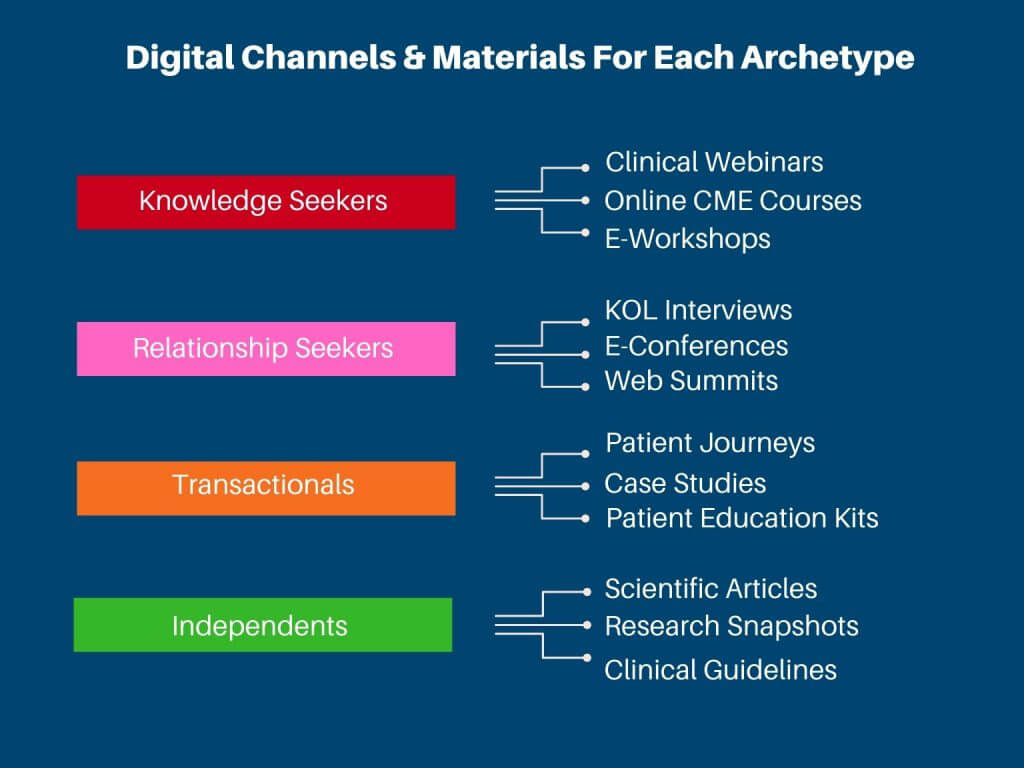 iii) Transactionals
"Knowledge sharing" is not on top of their minds, and they are more concerned about patients' preferences, which makes them cost-conscious and resistant to adopting newer drugs.
They encourage precise conversation with sales executives, which can lead to quick conclusions.
You can send them infographics via emails, depicting different patient journeys involving your drug. Other content materials may include e-Patient Education Kits, case studies, and testimonials.
This will help you establish trust among "Transactional", leading to a better brand adoption.
iv) Independents
This archetype includes the younger lot of HCPs who are highly receptive to digital platforms and tools.
They do not rely much on their interaction with sales executives or MSLs, and have affinity for evidence-based online materials (research snapshots of clinical trials, medical guidelines and regulations, etc.).
They see little value in sponsored or promotional information, and it is better to avoid "clinic visits" to engage with them.
Being digitally savvy, they are highly active on medical education platforms like Docplexus, consuming unprejudiced and non-promotional content.
You can have knowledge alliances with top medical associations and host clinical webinars on such platforms to gain the trust of "Independents".
We being a "Doctor only" online platform, not only host E-conferences and multi-panel webinars but also package clinical information into multiple HCP-friendly content formats for our business partners – To maximize their digital outreach and improve their brand adoption.
If you are interested in partnering with us or have any queries related to this write-up, kindly reach us at solutions@docplexus.net

---
Docplexus – Pharma's Trusted Marketing Partner
Docplexus is one of the world's largest & fastest-growing networks of verified doctors & a trusted marketing partner of pharma, medical devices, diagnostics & nutraceutical companies. We empower our industry partners to meaningfully engage with the medical community through data-driven, evidence-based marketing & brand management solutions such as infocenter (branded microsite), mindset analysis, KOL webinars, sponsored medical updates, online CMEs & more.
Enquire details
Comments