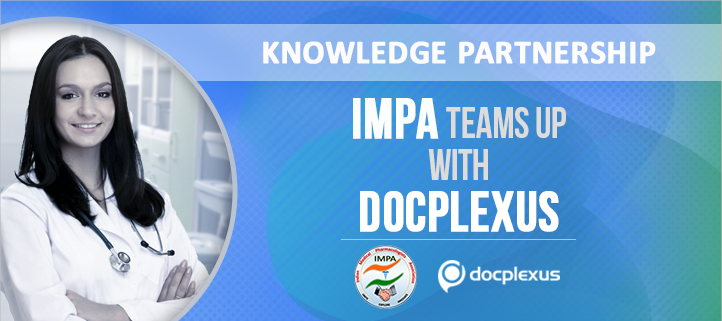 IMPA – Indian Medical Pharmacologists Association has chosen Docplexus as their official Knowledge Partner. IMPA will now be able to reach out to the robust and active community of 350,000+ doctors from 94 specialities on Docplexus; spanning over 1,500 towns and cities.
Docplexus will create an Infocenter (microsite) on its platform for IMPA to disseminate information on drugs, drug-related updates and appraisals, critical reviews, and the anticipated drugs in production.
The Infocenter will also host review articles on a range of therapeutics, KOL appraisals, and drug endorsements along with Pharmaceutical company leaders' opinions. Apart from this, Docplexus will communicate to its members, information related to upcoming workshops and events organized by the IMPA.
The partners also plan to conduct Webinars & KOL Interviews and share CME/Conference videos in varied subbranches of Pharmacology. This partnership will lend a positive push to Docplexus' vision of empowering doctors for better medical outcomes.
Docplexus is proud to be a Knowledge Partner to 15 associations till date –
IMPA is an exclusive guild of Medical Pharmacologists from all over India which aims at promoting Pharmacology in the field of Clinical Research and Therapeutics. The association was instituted in November 2014 forming an exclusive group of MD/DNB/DM Pharmacologists.
Key objectives of IMPA are:
Revise the existing MD pharmacology curriculum that was found outmoded and lacked highlights on recent advancements.
Eliminate old teaching and research method in Pharmacology.
Bridge the gap between academic learning and industry learning through clinical trials and teachings.
Open roads to short-term internships at various MNCs/CROs for budding Pharmacologists
Emphasize the need for therapeutic drug monitoring centres and Pharmacogenomics testing laboratories pan India.
Focus more on case and problem-based learning for both undergraduates and postgraduates.
Docplexus is an exclusive knowledge-sharing platform where 350,000+ medical practitioners actively discuss ongoing medical advancements, clinical cases, and news of the healthcare world. The content offering on Docplexus spans KOL webinars, healthcare news videos, online CMEs, clinical articles, treatment guidelines, policy updates, KOL interviews, live lectures from ongoing conferences, etc. It has dramatically transformed the way the Medical practitioners bind together and share valuable insights, information, opinions within the community.
The search for a conjoint space where a large subset of HCPs from varied specialities e-meet and greet has brought IMPA to Docplexus. We believe this collaborative attempt will undeniably promote awareness and understanding of Medical Pharmacologist practices in India on a greater scale.
Comments