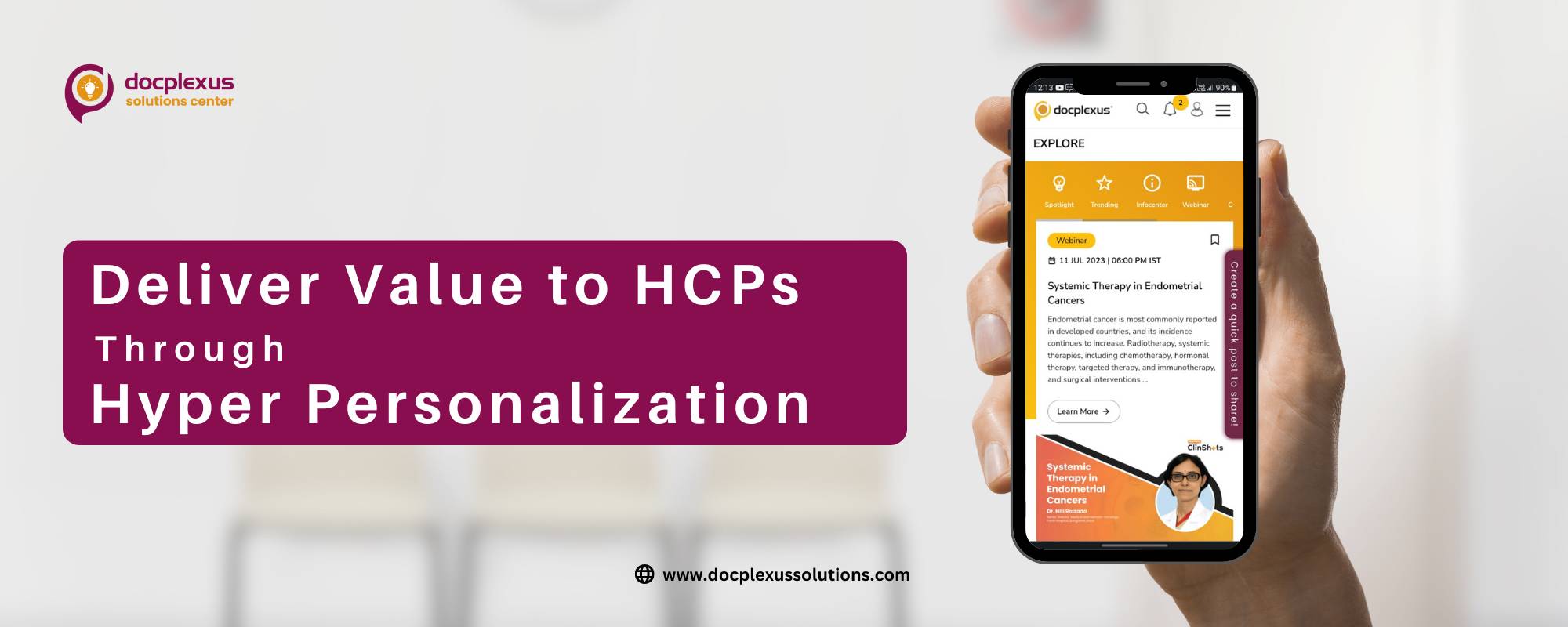 Hyper-personalization is an advanced approach to marketing that goes beyond segmentation. It allows brands to move beyond creating customer cohorts based on shared likes, dislikes and activities. With hyper-personalization, brands can create highly contextualized and targeted campaigns tailored as per individual users. This strategy increases the chances of engaging them and guiding them through the acquisition funnel by increasing customer satisfaction, influencing intent to prescribe and driving brand loyalty.
If you have to see hyper-personalization in action, you can look at e-commerce apps or even Netflix or other OTT platforms. You must have seen sections titled "recommendations for you" or "inspired by your choice" while adding items to your cart or browsing through content. They look into customer demographics, search queries, past purchase history, average time spent on pages etc. to suggest products or predict content.
Let's take you behind the scenes to witness why you would want to do hyper-personalization for your target doctors.
3 out of 4 doctors choose to unsubscribe from applications if they receive irrelevant messages in their inbox.*
*Source: Docplexus Survey
Today, healthcare marketers work on following focus areas more –
Drive Profit – through reimagined platform and service design for top-line revenue and ROI.
Innovate & Optimize – to drive growth, reduce customer acquisition and retention costs through customized targeting and campaigns.
Improve Doctor Experience – by creating and ensuring consistent, personalized and memorable brand experiences through deeper customer insights across different touchpoints.
Decide as per Data – through concrete marketing metrics and analysis for decision-making and risk management.
Hyper-personalized marketing can help through:
Custom and relevant advertising: Design your communication or advertisements uniquely by including relevant product, patient or customer information. Gather proper feedback, answer specific questions and concerns in real time.
Loyalty programs and re-engagement: When you understand real-time customer journeys, you know what they are thinking and what they want. Deep-dive into their mind, generate content, start conversations, recommend relevant articles as per their need. Build your product perception in sync with your doctor's belief system.
Real-time product notifications: Use AI (artificial intelligence) & ML (machine learning) driven data points on where doctors are coming from, past visits, search patterns and geographic data to tailor your marketing strategy. Craft interesting marketing campaigns, make your content strategy dynamic, explore dynamic landing pages and experiment with CTAs.
Eg: If you have multi-vitamin products and your focus is on vitamin deficiencies in women having PCOS (Polycystic ovary syndrome), while you want to create awareness among endocrinologists and gynecologists – you can hyper-personalize your content to these specific therapy areas. Similarly for the same products, if you want to focus on age-related deficiencies, you can hyper-personalize your content for geriatric medicine doctors, consulting physicians and general physicians who would want to know more on that.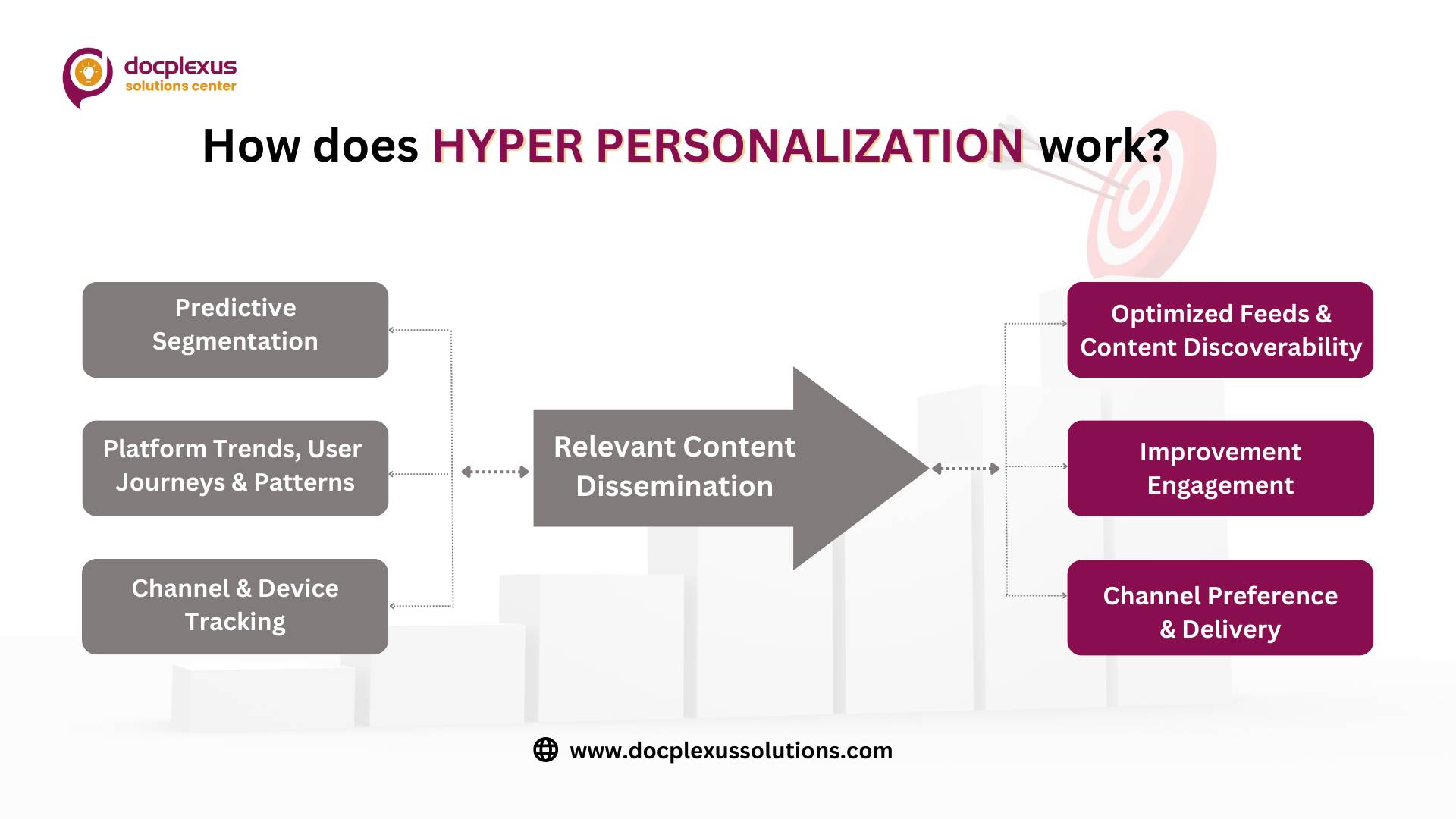 When a group of doctors shows interest in your content, our AI engine analyzes this and creates more opportunities for your brand to connect with them. This can potentially result in new customers being added to your list.
Docplexus can recommend readings basis of doctor's topic and format preferences (reference image below 1.1). It can also recommend the preferred channel mix for content dissemination. This is critical for doctors to stay actively engaged with content, get aware and may be change their prescription behaviour.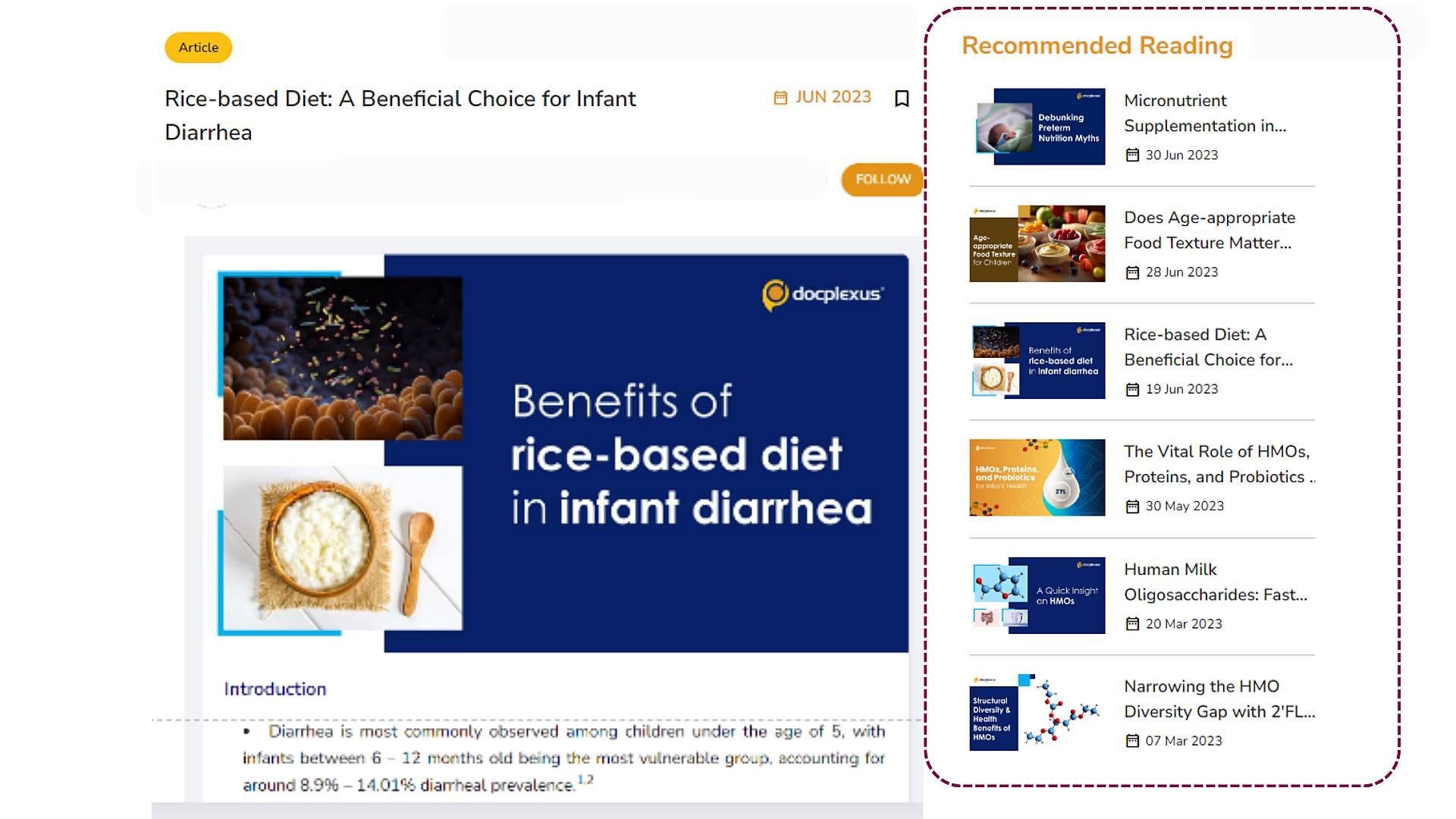 Eg: Image 1.1
In today's world of changing and evolving customer expectations, where your brands compete for customer attention, you as a healthcare marketer should look for avenues to interact with your doctors more efficiently.
Doctors, on Docplexus, are happy to share some data in return for a more personalized and curated informational feed.
How to do hyper-personalization for your doctors:
Design a content strategy as per your target audience – Customized newsletters with preferred content formats that could range from articles, infographics, webinars, KOL opinion videos to case challenges & quizzes etc. At Docplexus, with the power of social listening, therapeutic insights and competition bench-marking, create individualized experience for your target doctors.
Choose preferred channel of communication – Are the doctors coming through emails, web notifications, SMS, WhatsApp and when really they are seeing your content? Understand and accordingly plan your media strategy. With high open rates and seamless tech, data & digital integration of email traffic on Docplexus platform, a personalization strategy can be easily crafted for healthcare brands.
Monitor, include, exclude & adapt – Analyze your audience behavior, campaign performance and stay dynamic with what you want to do next.
Docplexus, an AI-based platform, revolutionizes healthcare companies' content delivery to doctors with hyper-personalized offerings. With 3,80,000+ verified doctors across 99+ specialties, Docplexus leverages its advanced algorithms to deliver timely and relevant information in doctors' target therapy areas. By tailoring content to individual preferences, specialties, and interests, Docplexus enhances engagement, knowledge acquisition, and the overall experience for healthcare professionals.Start harnessing the power of hyper-personalized messaging and create meaningful connections with your doctors today!
Comments