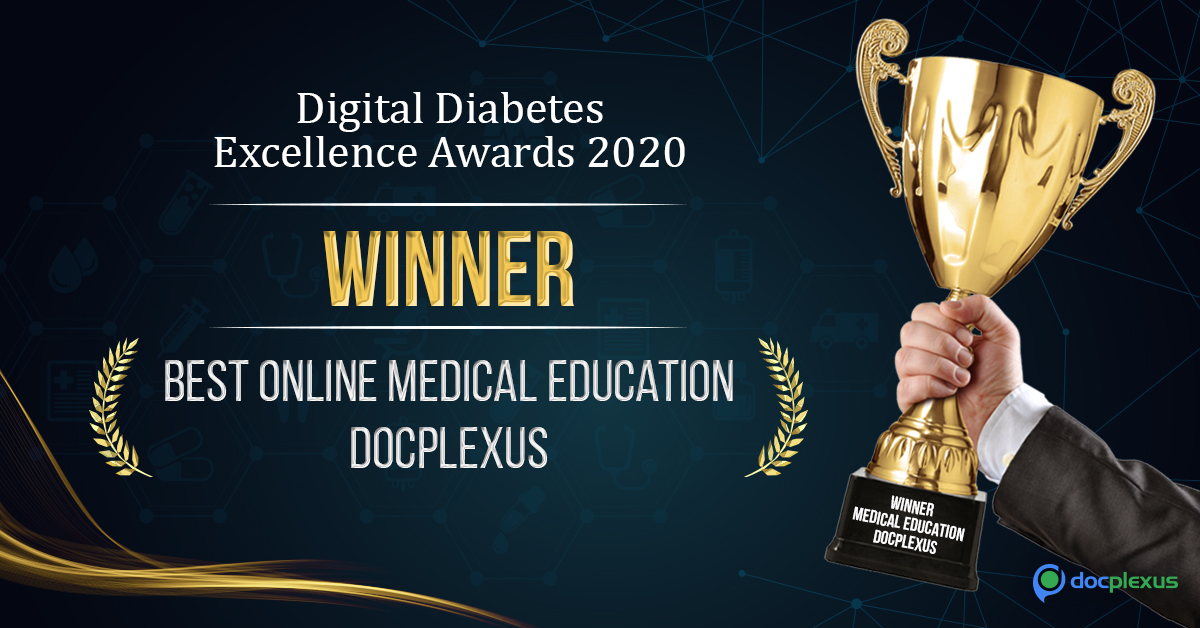 Docplexus has won the Digital Diabetes Excellence Award for Best Online Medical Education Platform at the 2nd International Digital Diabetes Summit 2020 organized by the Diabetes Academy on the 8th of August, 2020.
Since its inception in 2013, Docplexus has been scaling new heights through disruptive digital, technological and clinical innovation in its mission to empower doctors the world over, as a community dedicated to delivering healthcare that is evidence-based, compassionate and patient-centric.
Docplexus has led online clinical discourse for doctors in the form of interactive webinars, Expert clinician interviews and e-CMEs, besides a host of other accessible clinical content on the platform. The fervor was quadrupled during the COVID-19 led lockdown times, wherein Docplexus successfully hosted nearly 300+ clinical webinars with various industry and medical association partners, majorly focusing on evidence-based management of COVID-19 in patients with co-morbidities like diabetes and other clinically-important topics that were left unaddressed due to cancelled physical CMEs or conferences.
Speaking on the occasion, CEO Dr. Mukesh Parmar said:
"This award is a testament to the round-the-clock dedicated efforts of all our teams, who work with unflinching passion and meticulous attention to improve patient outcomes through our doctors. As we also soon kick start our 7-year anniversary celebrations, we remain committed to staying relevant and fostering cutting-edge innovation for our community of 380,000+ clinicians using AI, data-based insights and digital excellence, every single day."
About International Digital Diabetes Summit
International Digital Diabetes Summit is an annual event, conceived to promote development and use of technology in the fight against diabetes. It is an ideal platform to share and exchange innovative ideas that can improve clinical outcomes in diabetes care. Hosted by the Diabetes Academy, the summit is a conclave for Practitioners, Scientists, and Industry leaders to share advances in technology and translate them into improved clinical outcomes.
Comments