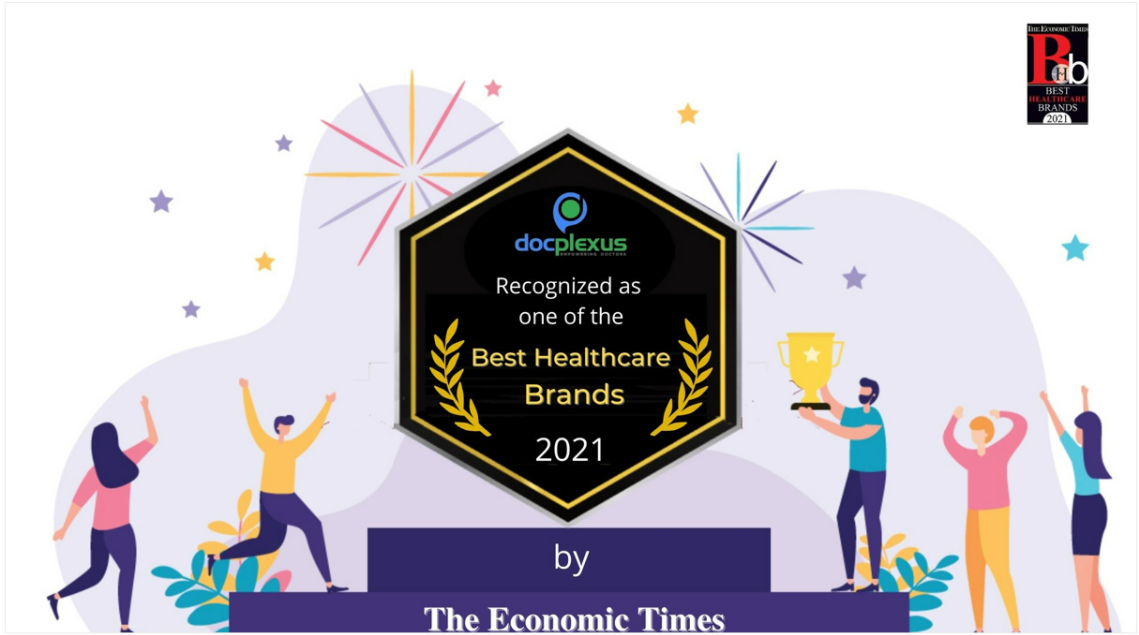 While the pandemic accentuated the already dire need for a digitally seamless healthcare ecosystem, it's an incredible feat that Docplexus was awarded the much-coveted title, as one of The Best Healthcare Brands of 2021 by The Economic Times, last month.
This is our third big accolade within 9 months, after being recognized as the "Best Online Medical Education Platform" by DDS in August 2020 and our CEO being ranked amongst the "Top 25 Health-Tech CEOs of Asia" by the US-based The Healthcare Technology Report in November 2020.
Incorporated in 2013, Docplexus was one of the first-of-its-kind to create a networking platform for doctors to enable peer-to-peer learning and evidence-based clinical interactions with the latest knowledge to improve patient outcomes. The passionate and diligent team at Docplexus has always strived to push the envelope and empower doctors with disruptive digital, technological and clinical innovation, making it India's largest community of verified doctors with over 3,80,000 clinicians across 99 specialties and 1600 cities. We are official knowledge partners with over 30 medical associations from India and abroad and are privileged to have over 7500 Key Opinion Leaders (KOLs) from different specialties aboard.
Engaging with doctors, in their time-crunched schedule is never easy. But we at Docplexus keep all our content solutions extremely fresh, curated, credible, and simple. We use immersive media formats that appeal to our clinicians, enticing them to log in frequently every day. Be it interactive webinars, informative info-centers, latest daily medical news in 1-minute capsules, patient cases, research articles or quizzes, and more – doctors across all specialties are engaged and active in the safe and secured world of Docplexus. Since the initiation of the first lockdown in March 2020, our team rose to the challenge and we successfully executed over 500 clinical webinars so far in collaboration with different medical associations and industry partners focusing on various much-needed topics across therapy areas. These 3 putative awards within 9 months simply reaffirm our belief in the mission of the Docplexus family.
Speaking on this occasion, the CEO of Docplexus, Dr. Mukesh Parmar said,
"I am truly grateful to our teams, our doctors, and our industry partners that we are in this league of the best healthcare brands today and we have made an incredible mark, despite all the challenges, internal and external!"
"I promise you – this is just the beginning of an even larger social impact with our efforts to create a healthier world through our network. The collective passion of each of our Docplexians will make it happen!"
About The Economic Times Best Healthcare Brands Awards.
The Economic Times Best Healthcare Brand Awards, an initiative by The Economic Times, aims at recognizing the contribution and felicitating the brands that have made a lasting impact in their respective sectors. Stepping into its 4th year, this honor has previously been bestowed upon many national as well as international brands like Abbott, Asian Heart Institute, Dabur India, Cipla Pharmaceuticals, Columbia Aisa, Dr. Batra's Healthcare, Johnson and Johnson, and GSK to name a few. The felicitated brands are selected based on extensive consideration criteria with parameters like innovation in healthcare, infrastructure, healthcare standards adopted, overall awareness, overall perception, levels of communication and transparency, etc.
Comments