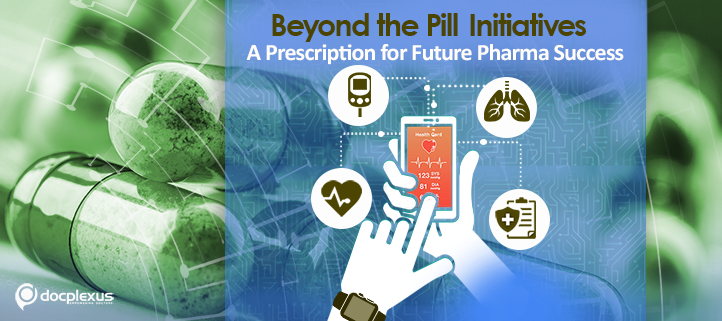 According to a study by Executive Insights on 'Beyond the Pill', 79% Pharma companies invest billions in drug development that nearly takes a decade, and they also significantly invest in marketing the pill. But, are they satisfied with their outcomes? Most would say no.
A major problem is that they tend to have a fixed approach towards marketing their products, failing to understand that there is much more to marketing than just drugs.
Why Going Beyond Drug Matters?
Healthcare is no longer just about providing the right drug to cure a disease. In the modern era, technology has intervened into every aspect of human life. While Pharma continues to manufacture life-changing drugs, companies have never thought about means for patients to feel the drug's impact on them. A gadget or a mobile application to track the patient's progress could be a game-changer. For instance, a wearable that can track heart rate can be useful for patients with cardiac diseases.
But, the bitter truth is that pharma continues to invest its time, money and manpower in developing and selling its drugs. This monotonous approach by pharma creates gaps between the industry and the customer.
People are better-informed than ever before, thanks to the internet. Doctors are often observed saying that their patients have a fair understanding about the disease, its consequences and treatment. This better access to information for patients has changed the needs of doctors. They are looking at more than just pills to improve healthcare outcomes.
That 'more' also increases avenues to keep the doctor engaged with pharma. Adding services to the core offering which is medicine also elevates pharma to becoming an indispensable part of healthcare.
The Indian Pharma Scenario
Indian Pharma is a traditional set-up. A large section still strongly believes that pills are the only focus for their business. In the West however, there is a realization among few Pharma organizations to delve into 'Beyond the Pill' activities. To be able to realize the value of 'Beyond the Pill' activities, Indian Pharma companies will have to experiment on new initiatives and draw their own learning.
What is stopping Indian Pharma?
Indian Pharma is at the cusp of evolution. While the industry has realised the need for change in some areas, there are a few frontiers that continue to function the traditional way.
Offering 'Beyond the Pill' solutions is one among them. It is still in the nascent stages as many companies have just begun to realize its value and those that are experimenting, have not been able to offer holistic solutions and therefore are yet to achieve success.
Reluctance among the leadership
A key factor that will help a pharma company migrate from the traditional business model to the new-age set-up is the willingness among the leadership. Unless the management of an organization does not change its perception towards the evolving pharma set-up, the MA and MR teams would never be able to focus on discussions 'Beyond the Pill'.
Like every organization, in pharma too, leaders will have to be the drivers of change. Unless they believe in engaging doctors beyond the pill, the attempts to migrate from an outcome-based set-up to a value-based organization will only go in vain.
A Harvard Business Review by Sachin H Jain on 'How Pharma Can Offer More than Pills' talks about a common mistake that pharma companies do – transitioning outstanding leaders from their sales operations to heads of 'Beyond the Pill' business. "However talented they might be, these individuals often lack experience of building non-pharma service businesses. In addition, pharma companies occasionally acquire new services and solutions companies and try to integrate them. These integrated businesses are also typically led by pharma managers who don't fully understand the acquired businesses and their markets," said Jain in the study.
Investment
Having spent billions on developing and marketing a drug, most Indian pharma companies are scared about investing on anything that does not focus on selling the drug. The fear needs to be broken. Pharma leaders like every good leader, should take the risk of executing a 'Beyond the Pill' activity.
Any expenditure on non-product activities is considered as investments with zero returns. What pharma fails to understand is that the money spent on activities 'Beyond the Pill' only aids the value of the pharma product. Pharma top brass is also seen to have misconceptions about the quantum of investment on non-product activities. While every penny spent by a company is valuable, one needs to understand that the percentage of investment on 'Beyond the Pill' activities is only a tiny fraction of the drug development and marketing budget.
What Should Pharma do to Go Beyond the Pill?
Offer Services that Complement your Product
When a pharma company decides to venture into 'Beyond the Pill' activities, a question that often arises among leaders is – What do we offer as a 'Beyond the Pill' solution? Pharma should look towards healthcare services.
Digital has the answers to every 'Beyond the Pill' offering. Digital solutions attract the tech-savvy universe today. Medical and digital technologies can collaborate to provide connected health solutions. For instance, one could develop a device that measures blood sugar levels and pump insulin into your body based on it. This will, on one hand, improve the blood sugar levels of the patient, and at the same time relieve him from the dependency on a glucose-measuring device.
Pharma companies should also explore digital medicines, the next big thing of the healthcare set-up. Pills that can track patient compliance or spoons that can measure the exact dosage are some examples coming up in the industry. Companies should think along the lines of facilitating the treatment while planning 'Beyond the Pill' services.
It is important to understand that a successful 'Beyond the Pill' service is a well thought out strategy that offers solutions at every stage of the patient pathway.
Services for Doctors too
While most 'Beyond the Pill' services are targeted towards patients, pharma should also be thinking about doctors. The key lies in investing time to understand doctors' needs and then offering solutions online. Pharma can connect with doctors on digital platforms and discuss medical science and healthcare issues. It should provide resources that will help them educate patients and improve adherence. It should offer real-time updates on latest advances in their specialties and keep online and offline communication channels open for ample dialogue and information exchange.
Get the Right Talent
Marketing is no longer a dedicated role in pharma. While the importance of scientific acumen is acknowledged, the ability to engage physicians in 'Beyond the Pill' conversions is also prudent. To launch the right activities, pharma needs to have the right leader, preferably an industry outsider. The large understanding of the healthcare set-up is crucial for a good leader. The need for companies that develop and commercialize medicines will never die. It is imperative that these companies keep this fact in mind and recruit the right leaders to introduce 'Beyond the Pill' activities.
On the other hand, the team on the ground will have to comprise all-round candidates who come with a mix of skills like scientific understanding, healthcare knowledge and marketing techniques.
Explore Partnerships
Sometimes pharma might not have the right expertise to implement a service. In that case, most companies tend to hire consultants, or outsource the activity to another organization. Instead, it is better if pharma forges partnerships with organizations that suit the requirement. This brings outside-the-industry perspective and the potential to meet the requirement.
A leading healthcare company recently partnered with a mobile technology company to offer 'Beyond the Pill' solutions. The partnership will bring together expertise in healthcare and mobile technology solutions that will help accelerate their efforts in digital medicine.
Go Digital
Information today is best disseminated on digital platforms. A study by Docplexus shows that 80% doctors prefer to read information online.
Not only doctors, but patients also seek information online. Pharma should utilize digital platforms to understand patient needs. Behaviour of doctors and patients can be compiled into data from such platforms that later becomes high-value insights. These insights will form the basis for 'Beyond the Pill' activities. Thus, exploring digital solutions for communications is the way forward for pharma.
Pharma had long ago realized the need for digitization. Most companies have developed a user-relevant web interface. But the disruption of mobile technology has made pharma's digital efforts haphazard. The absence of expert guidance is clearly evident. Indian Pharma needs a system that can give direction to its digital initiatives and sustain them.
Adopt a Customer-centric Mindset
Be it the pill or beyond it, pharma has to realize that every innovation has been built around the patients' needs. For this to happen, pharma will have to actively engage physicians and patients to gather their inputs. Pharma will have do away with the practice of designing solutions for patients based on its perceptions. Instead, it will have to innovate ideas from the input it receives from patients and physicians.
This would be possible only when every employee of the organization adopts a customer-centric mindset. Leaders in the organization must create customer-focussed thinking across functions and levels.
Way Forward for Pharma
Indian healthcare landscape is undergoing a sea change, creating new demands from doctors and patients. Pharma needs to understand this and keep evolving to stay relevant. This can happen only if it writes a prescription for itself to go 'Beyond the Pill'.
---
Docplexus – Pharma's Trusted Marketing Partner
Comments