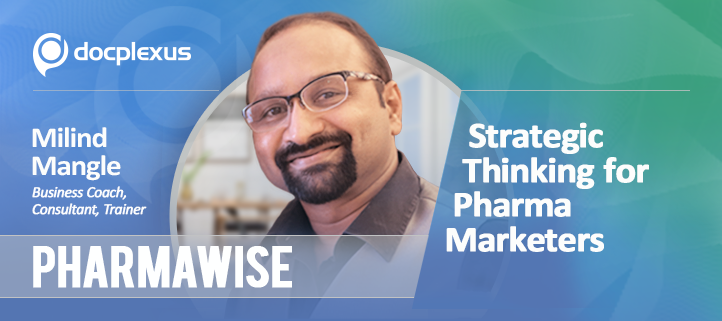 Indian Pharma Industry is facing tumultuous times, calling for a strategic thinking mindset that helps anticipate major shifts in the competitive marketplace, identify emerging opportunities and make proactive plans to leverage them. In this episode of PharmaWise, noted Business Coach Milind Mangle, shares his thoughts on how strategic thinking capabilities can help pharma marketers tide over tough market conditions.



Sheetal:  Milind, can you state a major flaw in Indian pharma marketing today?
Milind: I may not say a flaw but certainly, an area of improvement is, the lack of strategic thinking in the marketing teams. For whatever reason, the major focus, if not all, is on transactions, when in fact, it should be on Value Creation. Although data is abundantly available, it is not being leveraged enough as the thinking is transactional and limited to short-term business needs. It is also true that, in some cases, lack of time hinders marketers from developing the required strategic foresight for their brands.
Sheetal:  What does pharma top management expect from marketers?
Milind: The top management expects marketers to go beyond short-term business objectives and adopt a long-term, strategic view. Marketing leaders have to know how the market or therapies will evolve in the future and what they should do now to leverage these trends. They should have deep insights into the therapy or the market they operate in and possess high market intelligence. With ample data at their disposal today, the management expects marketers to make rational, data-based decisions that will create value for the business in the long run.
Sheetal:  What defines a strategic thinker? Why is strategic thinking in pharma marketing so critical in today's times?
Milind: Strategic thinkers are the ones who can Think Long, Think Deep and Think Big. They have the ability to look at the bigger picture, consider the long-term impact based on the deep analysis of figures, before arriving at a decision. So strategic thinkers are proactive, have a vision and are open-minded. Before taking a decision, they view the situation from all perspectives, create & evaluate alternate scenarios, ultimately choosing the most "plausible" (may not be the best) scenario or path. Before embarking on that path, they have a contingency plan/solution ready for the obstacles that might arise.
Example: Let's say when it comes to antidiabetics, you are launching Teneligliptin, when there are already a few brands of Teneligliptin (direct competitors) Assume this Teneligliptin market is 100 Cr. and growing at a rate of 25% (which is 4 times faster than the overall Indian Pharma Market (IPM))  Now, let's say there is another market of indirect competitors (other antidiabetic molecules like Glibenclamide, Glipizide, Gliclazide, etc.) which is almost more than 1000 Cr. and growing at hardly 7 to 10%. Now the question is against whom would you pitch (or position) your brand of Teneligliptin?
A Marketer who doesn't think strategically will target the direct competitors (which is just a 100 Cr market). Why? Because she thinks it is easy to convert a Teneligliptin prescriber to my brand. In fact, the reality is the other way round. This positioning is sheer out of short-term thinking. What will she do after 3 years?
Now a marketer who thinks strategically will do this: Initially when the market is at growth stage she will position the brand against indirect antidiabetics (1000 Cr market) and later on (maybe after 2 to 3 years) when the Teneligliptin market has grown big enough and has entered into late growth or maturity phase, she will position the brand against a direct competitor. This is strategic thinking because she has not only thought about how the brand will grow this year but even after 3 years.
Whenever you have multiple factors to be considered, whenever the business stakes are high and whenever you need to optimize the resources, you need strategic thinking. Today you find all these things as the nature of business in the pharma industry, hence there is all the more need for strategic thinking.
Sheetal:  Why is there such a dearth of strategic thinking capability among marketers? 
Milind:  The reasons for poor strategic thinking are manifold –
One key reason, which some managements/owners would not like to hear, but remains a fact is – managements/owners have very little patience – they want quick returns on investment, as a result, long-term thinking takes a back seat. Since sales professionals are experts at delivering instant business results, they are appreciated & rewarded by the management for the results. Many senior sales professionals get promoted as Marketing & Sales Heads, just on the basis of sales performance. Nothing wrong, if they can learn strategic marketing. Unfortunately, only a few of them really upgrade their strategic thinking. Most continue to do the "marketing with sales mindset". They know the "visible part of marketing" but still do not know the "invisible part of marketing" which is strategic thinking, analytical skills, and creativity. Their thinking remains transactional and they encourage a similar approach from team members too. As a result, strategic thinking or value creation takes a back seat.
Another reason is the lack of long-term commitment of the employees to an organization. Marketers who are not sure about staying with the organization beyond 2 years, will obviously not be interested in long-term strategic thinking for the business.
One more reason could be that there is an overall reduction in the thinking time span of society. Overall thinking of society itself has become short-term or transactional. So how can the Marketers, be an exception !!
Sheetal: What aspects should marketers consider while developing a strategy for their brand?
Milind: There are so many aspects, internal as well as external, this study is called "Environmental Scanning", which in fact, serves as food for strategy. To make the strategies it is important to understand the "Critical Issues", for which it is important to prepare a "SWOT". The SWOT arises out of the environmental scanning. From environmental scanning to arriving at the strategies is called "Strategic Funnel". Since environmental scanning plays a crucial role in arriving at the right strategy, I cover it extensively in my Strategic Marketing workshops. I am also speaking on it in an upcoming mega Pharma Marketing event – "MARKETING CONCLAVE''.
Sheetal: Are pharma marketers making the best use of customer data, strategy-wise? How can strategic thinking help create a successful digital initiative? Any example that you could share?
Milind: I would say that pharma marketers are using data but not leveraging on it. There is much more scope to make the best use of it.
Today marketers are using digital as a fad. They cannot really leverage it because they do not know what exactly they want and how digital fits in as a piece in the overall strategy.
Digital can be used in many ways if a clear strategy is in place. Let's say I am launching a new anti-hypertensive in the market. My strategy is clear – "To focus on newly detected anti-hypertensives". Then I can get the data of people searching for information on Hypertension or I can collect data about Doctors searching for a particular anti-hypertensive therapy or a molecule and then in turn reach them through the digital campaign.
Another example – I have a big brand in a saturated market and I have data that says my prescriptions are going down and my OTC sales are increasing. Now if I am clear that my strategy is "GO OTX", then I can use the internet and social media to reach those consumers or patients.
One more example – I have clear data which tells me which journals, which molecules the Doctor is using. I can leverage on it if I know what I want (my strategy).
You see, in all of the examples above, if I am not clear in terms of strategy then I would be all over the place while using social media. Moreover, when I am not clear as to what I want (strategy), my brief to my digital teams/partners is also vague, as a result, they are also confused.
Sheetal: What advice would you give pharma C-suite and marketing leads for winning in the life sciences business in the coming years?
Milind: My advice would be on the following 3 fronts –
Products 
• Be more patient-centric and focus on unmet medical needs while innovating or launching the products or formulation
People
• Encourage team members to think strategically and objectively, based on the data (many times they may not speak what you like, but it would be good for the business).
• Invest in people to create a more learning organization.
Process
• Focus more on value creation and brand building rather than short term transactional business.
• Be more data-driven. Set up the right systems, formats, etc. to get the authentic data at your fingertips.
Sheetal: Thank you, Milind, for these insights.
Milind: It's been a pleasure!
Previous PharmaWise Interviews
Interview with Subba Rao Chaganti, Ex-Director of Marketing, Sun Pharma on Genericization of Indian Pharma
Interview with Prof. Vivek Hattangadi, Chief Mentor, The Enablers on Field Force Excellence: Strategies for Pharma
Interview with Pranav Kumar, Chief Experience Designer, Praakamya on Customer Experience in Healthcare: Pharma Perspective
---
Docplexus – Pharma's Trusted Marketing Partner
Docplexus is the largest online community of 3,80,000+ verified doctors & a trusted marketing partner of pharma & medical device companies. It empowers the industry partners to engage the medical community through data-driven, evidence-based marketing & brand management solutions such as Infocenters, Mindset Analysis, KOL Webinars, Sponsored Medical Updates, Online CMEs & more.
Comments