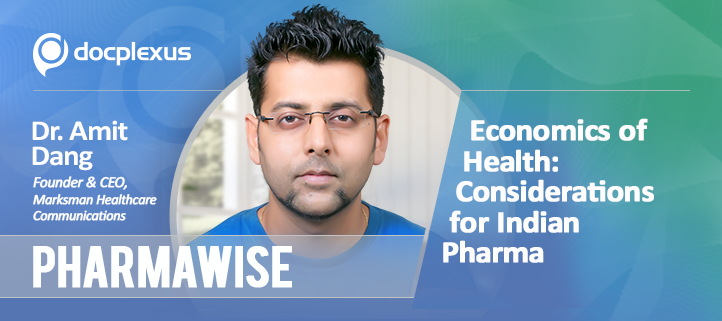 With rising disease burden and resource limitations, many nations are applying the principles of health economics to decision making at all levels of care. What is the scene like in India? How will it impact the pharmaceutical industry? Dr. Amit Dang, Founder & CEO of Marksman Healthcare Communications, shares his views in this episode of PharmaWise, our blog interview series.

Sheetal: Dr. Amit, what led you to choose a career in Health Economics and Outcomes Research (HEOR) and allied areas? 
Dr. Amit: It happened rather serendipitously. After my post-graduation in pharmacology, I began working closely with the marketing departments of pharma companies in the area of scientific communications. Then a rather novel (and high paying) project of a leading MNC came up – the Systematic Review & Meta-Analysis (SRMA) of one of their molecules, an antihypertensive drug. It was completely different from what I had been doing. Here we had to collate all the research papers as per their study protocol, collate all the findings – positive or negative, to conclude whether the drug is effective or not, whether it is safe or not.
It turned out to be an immensely satisfying assignment because, as a doctor, I would like to be an advocate of evidence-based medicine. And SRMA is the highest level of evidence that can be generated. I then started reading more about SRMA and understood that it is actually a part of Health Economics & Outcomes Research (HEOR) – a mechanism that helps healthcare decision-makers choose the most optimal therapeutic intervention. Results of HEOR studies are important while considering whether a particular drug should be given access to the market. I found this most appealing. And this is how I forayed into HEOR and allied areas such as Market Access & Real World Evidence (RWE).
Sheetal: How does HEOR impact the development & marketing of new drugs?
Dr. Amit: In today's times, governments all over the world are trying to assure/ensure Universal Health Insurance for their people, so they get all the treatment required. But budgetary limitations do not allow every medical intervention to be reimbursed which means the manufacturers must prove that their offerings are worthy of reimbursement.
The US and Europe have Health Technology Assessment (HTA) bodies to assess whether a particular drug/technology should be marketed or not, how it should be priced and whether it should be reimbursed under insurance. This is done by looking at the evidence around the product which is submitted by the manufacturers in the form of a value dossier. For a new drug to be considered as "adding value'' and therefore "fit to be reimbursed'', it should be more safe/efficacious/cost-effective as compared to those already existing in the market.
Where products do not qualify for insurance coverage, the time, money and effort that went into developing them are completely wasted. Therefore, manufacturers try to incorporate HEOR principles in the drug development cycle as early as possible. This way, they can capture all the endpoints and gain a detailed understanding of what the insurance companies expect from this new drug. So yes, HEOR has a direct impact on new drug development and marketing.
Sheetal: Please describe the HEOR landscape in India. What services will be in demand in the HEOR space in the coming years? Do we have the necessary talent to fulfill this demand? 
Dr. Amit: Despite the fact that HEOR principles are more applicable to matured markets like Europe than ''generics-focused'' India, I am optimistic about the widespread adoption of HEOR in our healthcare system in coming years. The reason being, the whole armamentarium around HEOR in India has grown in the past 2-3 years –
The Govt. is formalizing a system of HTA (Health Technology Assessment) and has created the HTAin (Health Technology Assessment in India) board under the Department of Health Research (DHR). It will be presenting the Health Technology Assessment Board Bill 2019 in the parliament.
Ayushman Bharat Yojna (ABY), India's first major step towards universal insurance/assurance, is progressing at a good pace. The HTAin board would play a role in deciding the packages to be included in ABY, the reimbursement to be provided to the hospitals, the procedures to be covered, etc.
The Govt. is coming up with a Health Technology Assessment Journal.
Few Pharma companies are doing these kinds of studies proactively.
So, we can see that the overall landscape is getting primed for HEOR adoption in India. Of course, we may not end up following the exact principles being used in the US and Europe.
A major part of HTA is the evidence-based creation of a value dossier drawn from systematic reviews, meta-analyses & economic modeling. So, I see all these services growing in demand in the future.
As far as talent goes, I would say we are still building it up. At present, there is a dearth of good economic modelers in India. There's a significant difference between model adaptors and model creators. India has some adaptors but creators are definitely lacking. It was really tough when we first began in 2015, but it is relatively easier now. In my experience, people learn a lot on the job. And institutions like ISPOR (International Society of Pharmaco-economics and Outcomes Research) are helping by creating a lot of awareness through their conferences. We, at Marksman, also offer internships & training.
Sheetal: What is the status of the formalized HTA system that is to be implemented in India? What are the major hurdles faced by us in this aspect?
Dr. Amit: We have been taking baby steps towards formalizing an HTA program for the past 3 years. As stated earlier, the DHR has set up the HTAin to evaluate all kinds of medical technologies. Presently, the HTA Board Bill 2019 is out in the public domain for comments and suggestions. It might become law in 2020.
Talking about hurdles, I would say that we need more clarity on how the industry will be involved in the HTA system, as currently, the Bill does not say anything about this. In the UK, a pharma company is required to do a HTA and submit it to the regulatory authorities. Then, independent evidence review groups (ERGs) appraise these health technologies with respect to their clinical and cost-effectiveness. This is followed by meetings and discussions between pharma and the regulatory authorities after which they conclude whether the company's product will be reimbursed or not. I hope that the HTA Act mandates a similar process in India.
Sheetal: Do you see RWE impacting the commercial success of Indian pharma companies in the coming years?
Dr. Amit: RWE is gaining a lot of momentum globally. The USFDA is working on a robust framework for the utility of RWE, and rightly so. It is extremely important to evaluate real-world outcomes to truly ascertain whether a drug has worked or not. There have been cases of drugs not being as good as was initially suggested by the RCT (Randomized Control Trial) data.
In the Indian scenario, we can see that EMRs are getting more organized. The Govt. also has its own digital healthcare initiative, which is adding to the importance of EMRs. Clinicians and practitioners recognize that RWE is valuable in treating patients effectively. So, when pharma's medical affairs teams publish results of RWE studies that were conducted on a set of patients, they feel more confident about that therapy. Efforts of the pharma company to build evidence around their molecule also help build a positive brand image.
Today we see Indian companies as well as MNCs based in India generating a lot of RWE from Indian patients and getting their papers published. This trend will only rise in times to come. In the future, RWE will be closely linked to the commercial success of pharma companies in India.
Sheetal: Globally, healthcare systems are shifting from volume-based payment models to value-based ones.  What constitutes ''value'' in value-based care? Do you see this shift happening in India?
Dr. Amit: With patient-centricity gaining momentum, value-based care will emerge as the preferred healthcare delivery framework all over the world including India. "Value" here implies better health outcomes and improved patient experience at lower costs. As opposed to fee-for-service healthcare delivery framework, value-based systems reward the hospitals and doctors for improving patients' health and lowering the incidence of chronic diseases.
In India, we already have some hospitals taking a lot of effort to deliver more value to patients. However, it can't be just hospitals, drug companies too should adopt a patient-first outlook. That said, I definitely see the shift towards value coming to India in near future.
Sheetal: How can Patient-Reported Outcome (PRO) data contribute to better clinical care? What are the top challenges in measuring PROs in India?
Dr. Amit: As healthcare systems turn patient-focused, PROs will definitely become important to capture. It may happen that in a real-world scenario a treatment is giving a bad experience to patients, say, for instance, causing an undesirable side effect. If patients are able to document this information, it will help doctors change the clinical course and eventually the drug will get replaced by another. Here the PROs have contributed to better clinical care.
A major challenge in measuring PROs in India is that the PRO instruments are not adapted as per the Indian setting.  It is recommended that PROs and PRO instruments should be validated as per individual country's needs and specifications.
Another problem is figuring out the best ways to capture PROs. Indian clinicians are not fully convinced about the practicality of PRO measures. The lopsided physician-patient ratio adds to this skepticism as HCPs fear that collecting PROs would add to their burden. Therefore, the PRO collection methods should be the least complicated.
I assume all of this will become more structured when PROs become mandatory in our country.
Sheetal: What are the implications of PROs for Pharma?
Dr. Amit: PRO data has become an important parameter, to be submitted along with efficacy/safety trial findings, in gaining regulatory approval globally. The key advantage of PROs is that they present the reality as shared by the patients themselves. There's no one asking leading questions. Patients fill up standardized questionnaires, consisting mostly of MCQs (Multiple Choice Questions). The questionnaires have to be administered in vernacular languages to ensure the accuracy of the study. PRO studies enjoy high weightage and are more likely to get published. So, if pharma companies put up PROs as part of their publication strategy it may lead to a positive commercial impact for a country like India.
Sheetal: How is Marksman Communications placed to fulfill upcoming demands from Indian Pharma Industry?
Dr. Amit: We are well-equipped to conduct HEOR studies, create local value dossiers for gaining better market access, perform SRMA & economic modeling and generate RWE. We are also ready to take on HTA projects when the HTAin Act is enforced and becomes mandatory for pharma. We recently introduced KYT (Know Your Treatment) Mobile App – a tool that helps patients capture their health records digitally and monetize this data. KYT can further be leveraged by pharma companies to generate real-world efficacy/safety findings of their drugs, PRO measures, Health-Related Quality of Life (HRQoL) surveys and so on. We are also very keen to get into digital therapeutics in the future where we will strive to increase patient adherence. This again will have a direct business impact on pharma. Thus, Marksman is well-placed to work on as many levels as possible to fulfill the varied needs of Indian pharma companies.
Other PharmaWise Interviews
Milind Mandle, Business Coach, Angle Consultancy & Services on Strategic Thinking in Pharma Marketers
Subba Rao Chaganti, Ex-Director of Marketing, Sun Pharma on Genericization of Indian Pharma
Prof. Vivek Hattangadi, Chief Mentor, The Enablers on Field Force Excellence: Strategies for Pharma
Pranav Kumar, Chief Experience Designer, Praakamya on Customer Experience in Healthcare: Pharma Perspective
---
Docplexus – Pharma's Trusted Marketing Partner
Comments