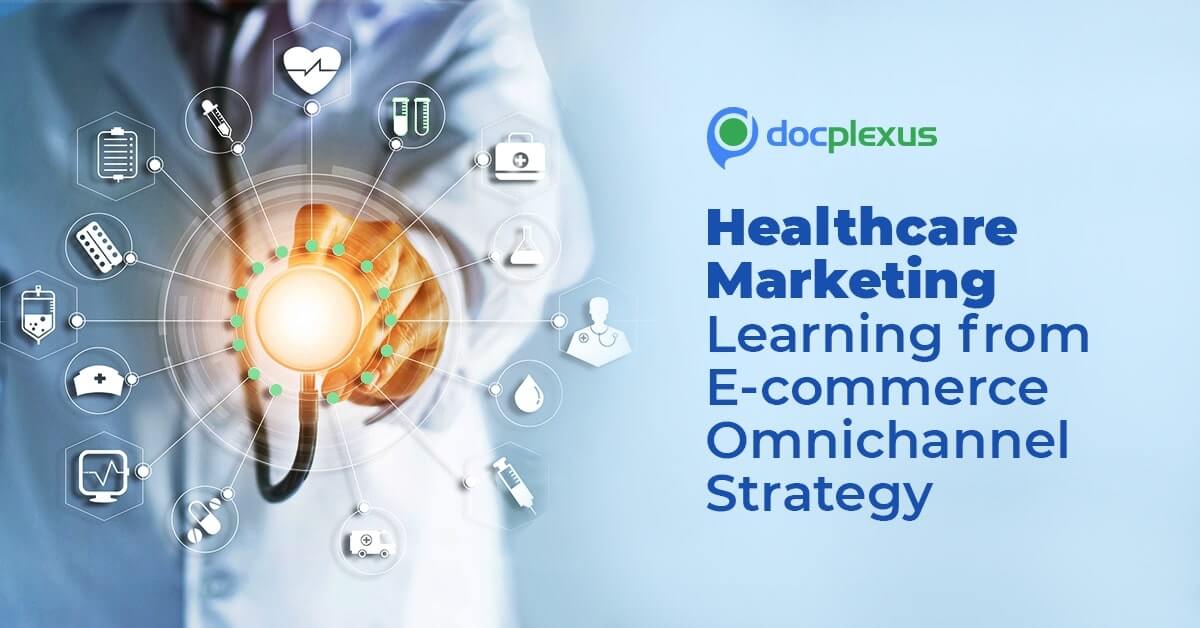 It is no more about bringing customers to your websites or landing pages or portals but to your interconnected universe, or in other words, into your omnichannel funnel.
If you aren't taking your customers on an experiential journey as they interact with your products or offerings, then you aren't giving them an omnichannel experience.
Along an ideal journey, your customers should accumulate knowledge and learn incrementally.
There is no need to look beyond E-commerce platforms like Amazon and others if you want to get inspired and create an omnichannel strategy for your pharmaceutical brands. Before going further, let us understand the fundamental difference between omnichannel and multichannel engagement. Yes, they are not twins.
Omnichannel is an upgrade to Multichannel
In multichannel engagement, marketers use different channels (offline and online) discretely, creating unique content for each channel. For example:
Event 1 – Sales executives making in-person visits to HCPs for striking a clinical dialogue (Channel used – Offline)
Event 2 – Sales executives sending a Self-Detailing email to HCPs (Channel used – Email)
Events 1 and 2 are mutually independent, and different channels have been used to engage with HCPs. There is no overlapping of clinical information or content materials.
On the other hand, omnichannel engagement integrates different events and channels (offline and online) to create an experiential journey for customers. For example –
Event 1 – Sales executives interact with HCPs over video calls to provide clinical information on XYZ drug (Channel used – Video Call)
Event 2 – An Email goes to HCPs ( a day after the video call) having the link of the upcoming webinar on the therapeutic benefits of XYZ drug (Channels used – Email and Webinar).
Event 3 – The link of the product microsite is given at the end of the webinar so that HCPs can access all the required content materials (Channels used – Webinars and Microsites)
Events 1, 2, and 3 are interconnected. As you can see, between events 1 and 2, there is an overlapping of clinical information, as sales executives will also discuss some of XYZ's therapeutic benefits.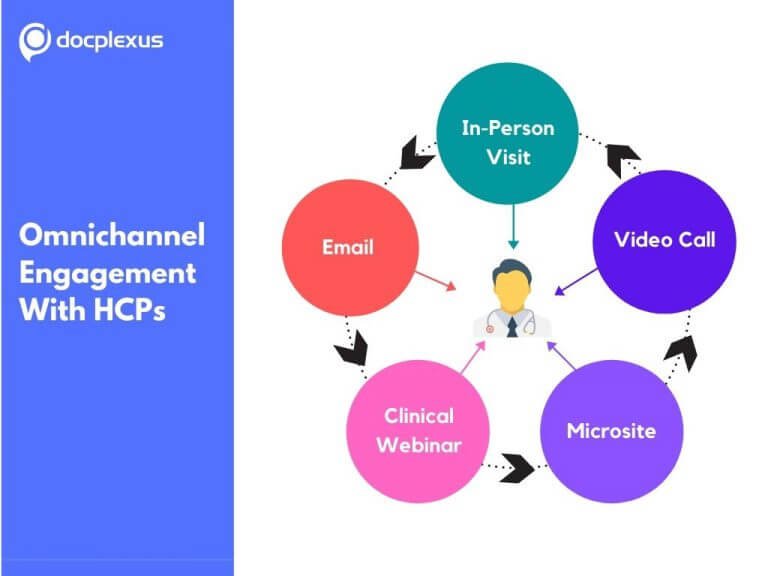 Here are some key pointers regarding an omnichannel customer journey:
i) Integration of digital channels (Microsites, E-Conferences, Emails, etc)
ii) Key messages appearing simultaneously in different channels
iii) A single KPI tracking system (an interactive dashboard which displays the qualitative insights on your HCP engagement campaigns, clinical webinars, e-conferences, e-detailing sessions, etc)
iv) Content reusability (for example– Email Add-ons. Read here)
Taking Amazon's case to understand key omnichannel tactics
E-commerce platforms like Amazon create omnichannel marketing funnels like no other, and therefore, is an ideal reference for the Healthcare industry to learn a few tactics.
It knows its customers inside out – Their preferences, buying behavior, and purchase history, etc. Thanks to its unified database, it provides personalized experiences to each customer across channels (Amazon Shopping, Amazon Prime, Amazon Music, etc).
Here are a couple of tactics that are the hallmark of Amazon's omnichannel strategy.
Expanding Digital Touchpoints
ComScore predicted that 50% of all Google Searches will be carried out via "Voice Search" by 2020.
Before the launch of the Echo, Amazon didn't have direct access to customers who were leveraging the "Voice Search" feature in their mobile devices.
What Amazon did?
By entering into the "Smart Speaker" market, it added one more digital touchpoint to its omnichannel funnel. Today they have direct access to customers via Echo (a device that connects people to Alexa Voice Service to play music, read the news, make calls, check the weather, etc).
The takeaway for pharmaceutical companies – You should never stop looking for new touchpoints and channels to engage with HCPs, as the way they consume information or knowledge might change from time to time. For example, HCPs, in general, have an affinity for Emails to get all the medical updates, but in the future, they may spend more time googling pharmaceutical websites/microsites to get information on the latest drugs. In that case, Google Ad campaigns (PPC) will be an ideal channel to reach out to HCPs.
Connecting offline and online channels
When it comes to leveraging the "online data points" for augmenting the in-store purchases, Amazon does a great job. Their 4-Star concept is a perfect example.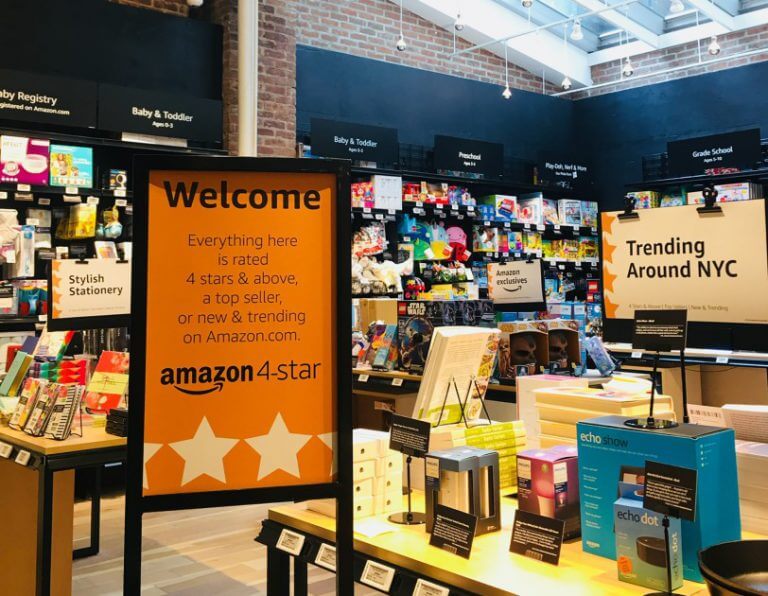 As you can see in the image above, the store is selling products (having 4 stars or above rating) based on customers' ratings and reviews on Amazon.com. The store contains sections like "Most-Wished-For" and "Frequently Bought". In a nutshell, it is a physical extension of Amazon.com.
The takeaway for pharmaceutical companies – Connecting offline to online channels is integral to your omnichannel strategy. For example – The in-person interaction of your sales executives with HCPs can be made more purposeful by giving HCPs access to your Microsites and online content materials like Infographics, Case discussions, KOL Interviews, etc. On your Microsites, you can inform the visitors regarding your upcoming Medical E-Conferences or Multi-Panel Webinars (you are interconnecting your different digital channels here).
Summarizing the benefits of Omnichannel engagement for the Healthcare Industry
You can create offline to online journeys for HCPs
Based on your Brand STP and clinical-educational needs, you can design offline to online customer journeys for HCPs, considering their:
i) Digital Channel Affinity
ii) Sentiment Analysis
iii) Geographic Location
iv) Work Schedule
You can also create different sequences of in-person interactions, digital channels, & content materials for HCPs, for example: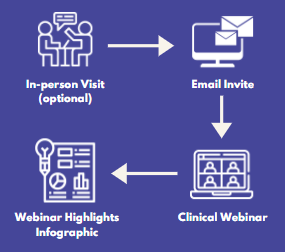 You can explore different digital channel combinations to engage with HCPs
Omnichannel marketing gives you the option to try out bespoke combinations that are best suited to your brand and HCPs. Here are the top 3: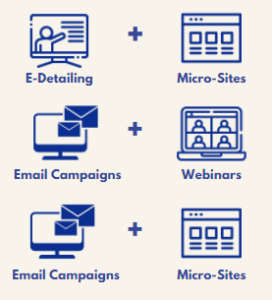 You can deliver personalized, evidence-based, and clinically relevant content to HCPs across channels, in a multitude of formats like: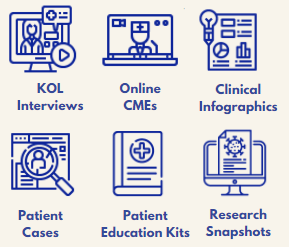 Enabling your Omnichannel Marketing Strategy
Omnichannel marketing centers around data management, advanced analytics, and digital marketing prowess. Therefore, to successfully carry it out, you require cross-functional teams and a start-up-like mindset.
Collaborating with digital Healthcare enterprises/startups can help you assess fill the gaps in your digital communication & clinical-marketing strategy via:
i) AI-enabled analytics
ii) Qualitative reports on HCP engagement campaigns
iii) Social Listening reports
And much more.
Moreover, you can gain knowledge of digital marketing tools, techniques, and channels.
Here are some more reasons for you to explore a partnership with Healthcare digital enterprises/startups:
For having optimized interactions with HCPs
To save HCPs from the overload of medical insights/information, you need to understand various digital engagement tactics to make learning more experiential, credible, and personalized for them. The in-house digital marketing teams of such enterprises can help you in this.
Also, to successfully pull off an omnichannel strategy, you require digital upskilling. Partnering with digital enterprises/startups is the best way to gain knowledge of digital marketing tools, techniques, and channels.
For AI-driven decision making
Your sales executives can leverage 'Virtual Assistants' (like Alexa) built by digital startups to handle HCPs' queries & strike clinically credible dialogues.
Using their AI-enabled analytics, you can predict HCPs' next steps (like seeking a new training or switching to a competitor's brand):
i) To anticipate the next stage of their professional journey.
ii) To plan a timely intervention.
For tapping an extensive customer base
An omnichannel strategy is crucial to connect with HCPs of tomorrow or the younger lot, who grew up on texting and video calling and were early adopters of mobile tech. Also, their content preferences and ways to consume that content is different than their senior counterparts.
For promoting the idea of co-Creation
You can take such collaborations to the next level by aiming at co-creation and focusing on:
i) Clinical development strategy
ii) Product differentiation strategy
iii) Brand positioning
iv) Digital therapeutics
v) Patient engagement platforms
vi) AI for drug discovery
Which tactics have you successfully implemented under your omnichannel marketing strategy? Do mention in the comment section. We would love to read them.
Our in-house teams of digital marketers, brand strategists, and medical writers create high-impact and customized Omnichannel campaigns for our business partners, to expand their brand's outreach and maximize its adoption among HCPs. If you are interested in collaboration, then kindly reach us at info@docplexus.co.in/9822824281.
Enquire details
Comments