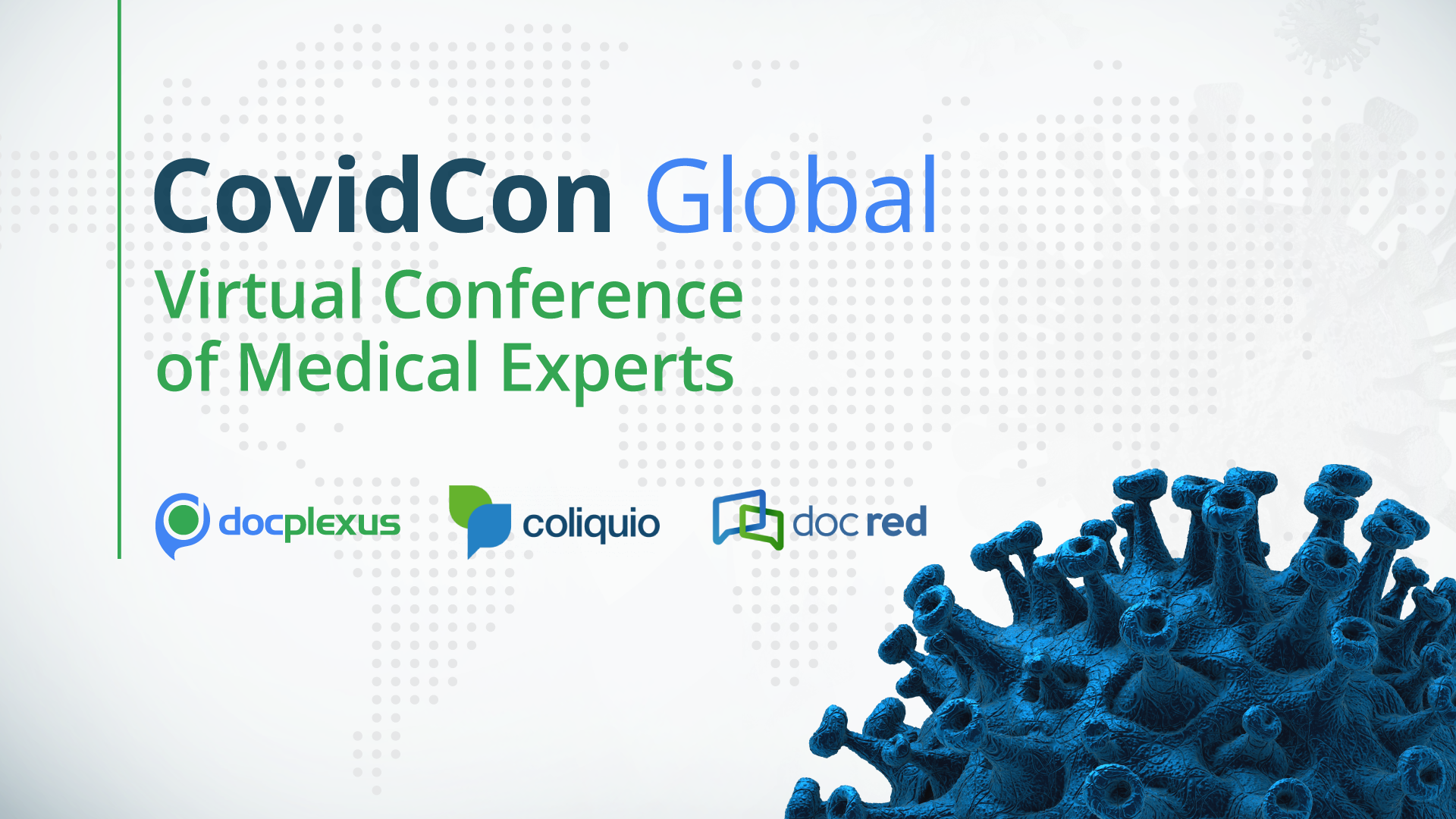 CovidCon Global – The Biggest COVID-19 Web Summit For HCPs, facilitated by Docplexus, was a huge success and reinforced our idea of empowering and sensitizing doctors. It was a timely confluence of doctors across the globe in the times of COVID-19.
5000+ clinicians from 67 countries gained insights from 8 medical experts who have been directly managing COVID-19 patients in China, USA, Italy, Germany, India, and South Korea.
Over 1800 HCPs joined the event live on Docplexus platform. This successful endeavor is simply one amongst many, in our round-the-clock mission of empowering doctors through evidence-based knowledge and networking. Here's a glimpse!
More than 500 questions were submitted by the attendees, addressing some of the most urgent concerns globally. Here are a few of those pertinent questions:
i) How did South Korea manage to slow down the spread of the virus without bringing public life to a standstill?
ii) Why has the situation in the USA, and especially in New York, escalated so much?
iii) Why is the mortality in Italy much higher than in other countries?
iv) Germany has recently approved a first clinical trial with Covid-19 convalescent plasma. How promising is this approach?
v) Does post exposure prophylaxis with hydroxychloroquine work?
vi) How to manage false negative results in persons tested for Covid-19?
vii) Which vaccine approaches are most promising?
Perspectives of the Medical Experts
China's Radical Approach
Prof. Fengming Luo presented the case of China, highlighting the strict isolation of Hubei Province with the city of Wuhan. He mentioned about factors like hygiene measures and immediate availability of doctors and nurses, that significantly helped China in controlling the outbreak of COVID-19.
The Indian Measures
Dr. Om Shrivastava (Infectiologist) and Dr. DJ Christopher (Pulmonologist) addressed the nationwide measures taken by India to isolate infected people after a drastic increase in suspected cases.  They supported the use of Hydroxychloroquine for healing COVID patients and convalescent plasma for immunization. As per them, devising and implementing remote monitoring techniques is needed for a better use of resource and for the greater good.
The Unusual Case of South Korea
The unusually low number of cases in South Korea certainly deserves appreciation. According to Dr. Marc P. Windisch (Virologist), the fundamental restructuring of the health system in South Korea during MERS outbreak (2015) is one of the primary reasons. He also talked about other measures that has been taken like provision of free tests, inexpensive protective masks, use of Big data to monitor infected people, etc.
Germany's Stable Situation
Dr. Christoph Spinner (Infectiologist) threw light on the existing situation in Germany, which he considered to be stable as medical capacities were enhanced at an early stage. Though he feels that a large number of studies are still required to cope with the pandemic in the long term, and global findings must be brought together and researched.
Exacerbating Situation In New York
Dr. Nicholas T. Skipitaris (Cardiac Electrophysiology) reiterated the role of Telemedicine in stabilizing the current situation in New York. He mentioned about remote monitoring options for cardiac patients that are being used in order to reduce the workload on frontline workers and use intensive care units for COVID-19 patients.
High Mortality Rate In Italy
Dr. Patrick Welte (Pneumology) was hopeful that the situation in Italy will improve within the next few weeks. He didn't mention a specific reason but ascertained that things will become more clear regarding Italy's epidemiology once the pandemic subsides. 
After the event, we asked the attendees for their feedback and whether they are interested in virtual events like CovidCon. The result was clear: 95% of the participants wanted more events like CovidCon.
We aim to fill the information gap as much as we can during COVID-19, and we will be conducting more large-scale digital events and webinars in the coming time. If you are interested in a collaboration, then feel free to reach us at – sales@docplexus.in/ +91 9881969598
---
Docplexus – Pharma's Trusted Marketing Partner
Docplexus is the largest digital network of doctors in India & a trusted marketing partner of pharma & medical device companies. We empower our industry partners to meaningfully engage with the medical community through data-driven, evidence-based marketing & brand management solutions such as Infocenters, Mindset Analysis, KOL Webinars, Sponsored Medical Updates, Online CMEs & more.
Comments