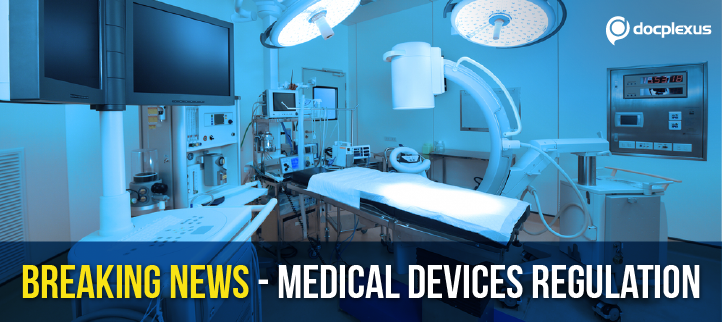 The Ministry of Health and Family Welfare, Govt. of India, has notified that all medical devices will be classified as "drugs" and regulated under the Drugs and Cosmetics (D&C) Act, 1940, effective 1st April 2020.
With this notification, all medical devices will fall under the jurisdiction of the Central Drugs and Standard Control Organization (CDSCO) from the said date.
This move follows the recommendations made by the Drugs Technical Advisory Board (DTAB), in a meeting held in April last year.
Medical devices are currently classified into four categories:
• Class A – low-risk medical devices like bandages, alcohol swabs, surgical dressings
• Class B – low moderate-risk devices like needles, urinary catheters, thermometer and sphygmomanometer among other handheld medical devices.
• Class C – moderate-high risk X- rays, ultrasound and dialysis machines
• Class D – high-risk devices like pacemakers, heart valves, implants, etc.
The switch will happen in a phased manner, where compliance requirements for Class A & B devices will be enforced after 30 months from 1st April. For Class C & D devices, the period will be 42 months after the date of notification.
Most compliance issues arise in the high volume and low-risk categories. Currently, only 37 medical devices are classified as drugs. Of these, only a few like IUDs, cardiac stents, condoms have been brought under price control.
What it means for Medical Device Companies:
• The CDSCO will be in charge of certifying medical devices for manufacture, import and sale.
• All devices manufactured, sold and distributed in the country will be thoroughly inspected and monitored for quality, efficacy, and safety by the CDSCO.
• The devices will now be subject to price control under the Drug Price Control Order (DPCO).
• Medical device companies can be held liable for a penalty in the court of law, in case of any violations.
The devices will now have to be registered online, the registration will be voluntary for 18 months.
Reactions from Key Stakeholders:
The move evoked strong reactions from industry bodies and associations. Surgical Manufacturers and Traders Association (SMTA), disapproved of the change, claiming it to be unfair for the local and small device manufacturers. It also condemned the adverse economic impact on consumers.
SMTA President, Pradeep Chawla, said "A separate Medical Devices Act should have been brought in first to regulate medical equipment as most of these devices are neither invasive nor sterile nor implantable. Regulating these products in the same manner as that of medicinal drugs would not be in the right spirit and would cause unnecessary burden and hardship to manufacturers and traders and also to the general public which would be forced to bear the high cost of compliance. This is more likely to benefit large corporate that have the wherewithal to manage licenses, huge manpower costs, and deep pockets to sustain losses."
According to Malini Aisola, Co-convenor, All India Drugs Action Network (AIDAN), "While this is positive, Consumer groups remain skeptical about how the CDSCO's current ability to regulate devices under the wider scope. We are particularly wary of the CDSCOs competence, expertise and most importantly its commitment towards patient safety given its dismal track record."
On the other hand, The Medical Technology Association of India (MTaI), welcomed the government's decision.
The medical devices market in India is valued at $10 billion and projected to grow to $50 billion by 2025.
Do you agree that a separate act for Medical Devices is the best way forward?
Source: Business Today, Times of India, Financial Express
---
Docplexus – Pharma's Trusted Marketing Partner
Comments