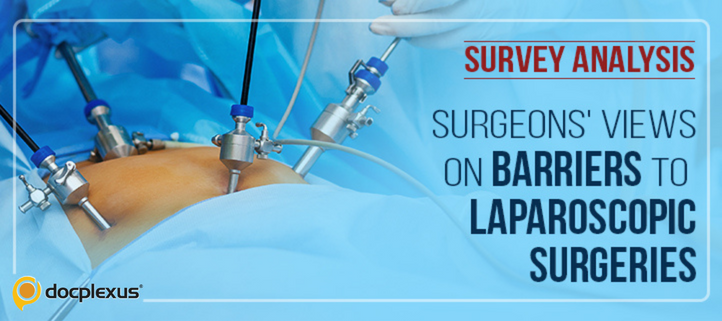 Ever since the introduction of the concept of laparoscopic surgery, the approach to surgical interventions has been completely changed. This minimally invasive procedure has not only led to improved wound infection rates but has also been observed to reduce postoperative pain and duration of hospital stay. However, regardless of improvements in surgical care, the adoption of laparoscopic surgery in India has been minimal and sporadic. We asked doctors about the major barriers that hamper the higher adoption of laparoscopic surgeries.
Aim: To understand the problems faced by surgeons during laparoscopic surgeries in India
Methodology: A nationwide online poll on Docplexus
Respondents: 453 Gastroenterologists, Coloproctologists, and Gynecology & Obstetrics Surgeons
Survey Results:
Analysis:
Hands-on Laparoscopic training
More than 60% of our study population stated that they had undertaken a program/module for laparoscopy. However, it was observed that approximately 30% of the respondents reported that they had not undertaken any training for laparoscopy. Furthermore, it was also noted that more than 75% of the surgeons perform more than 4 surgeries in a week. This denotes that almost one-quarter of the study populations performing a laparoscopy have not received any training or have studied any module regarding laparoscopy. 
Surgeons face physical discomfort during and after laparoscopic surgeries
In an attempt to understand the toll that laparoscopy takes on a surgeon's body, we asked whether they had felt any pre- or post-surgery discomfort in the survey. More than half of the respondents reported that they face physical discomfort or symptoms during or after laparoscopic surgeries. Furthermore, among these respondents, a majority of surgeons faced the after-effects of laparoscopy, such as pain in the neck regions, irritation of eyes, knees, wrist, and backaches, as well as injuries in the thumb.
Surgeons were also asked whether the discomfort they felt occurred only during the operation, just after finishing an operation, or if it persisted afterward. A majority of surgeons stated that they felt discomfort likely after the surgery. A fewer (13%) of these surgeons also reported that the symptoms bother them throughout the day after the surgery, thereby affecting their day-to-day activities.
Surgeons face equipment-related discomfort during laparoscopic surgeries
57% of the surgeons reported that they faced equipment-related problems during laparoscopic surgeries regularly. Among these respondents, 24% of the surgeons reported that the height of the table was inappropriate, which led to problems during surgery. Other equipment-related problems were concerning the size of monitors (20%) and height and distance of monitor from eye level (20%), size of laparoscopic instruments (20%), and uncomfortable foot pedals (20%).
Some comments & concerns shared by our respondents are shown below:

 Conclusion:
This survey highlights several key challenges that are important limitations to the use of laparoscopy surgery.  Precisely, the facets that were demonstrated to be most limiting for surgeons during laparoscopy were related to physical and equipment discomfort. This information can be used to strategize several training sessions/modules targeting laparoscopy practicing surgeons. Once these surgeons are presented with tools and options to surmount the identified barriers, they might be able to provide a minimally invasive approach to surgery to an increasing number of patients along with improvement in perioperative outcomes.
How can the pharma/medical device industry help?
The observations derived from this survey underscore the significance of exposure to adequate surgical volume in addition to skill-and simulation-based education as well as physical and equipment-related discomfort for surgeons. Furthermore, keeping the surgeons updated with progressing technologies available for use in the operating rooms requires intermittent training, performance measures, re-credentialing sessions as well as understanding and solving the problems faced by the surgeons while and after performing laparoscopy. Pharma/Medical device companies can fill this gap by undertaking the following activities:
• Provision of training sessions: According to the results obtained from the survey, around 23% of the participating surgeons were not sure if the problems they were facing were equipment-related. Thus, providing training sessions to the surgeons by the companies regarding the working novel instruments for operating rooms will not only help them in the proper understanding of the instruments but will also help them to coherently place doubts and problems in front of the manufacturers/trainers.
• Channeling communications and complaints: Organizing a proper channel to understand the complaints of surgeons regarding the instruments will help the pharma companies to provide solutions to the surgeons in a better way. Furthermore, systematic and rational communication with the surgeons regarding the effectiveness of the instruments used in the operating room should be organized, which would ensure a better quality of life for the patient.
• Providing updates regarding recent advancements: 94% of the survey population exhibited their curiosity regarding the recent updates in laparoscopy and the latest advancements in the field of laparoscopic instruments. Facilitating updates regarding laparoscopic instruments will help surgeons during laparoscopic surgeries.
If you're interested in gaining similar insights into the target audience for your therapy area, contact solutions@docplexus.net
---
Docplexus is one of the world's largest & fastest-growing networks of verified doctors & a trusted marketing partner of pharma, medical devices, diagnostics & nutraceutical companies. We empower our industry partners to meaningfully engage with the medical community through data-driven, evidence-based marketing & brand management solutions such as infocenter (branded microsite), mindset analysis, KOL webinars, sponsored medical updates, online CMEs & more.
---
Docplexus – Pharma's Trusted Marketing Partner
Enquire Now
Comments