What is differential marketing and how can it be applied in healthcare marketing?
While healthcare professionals have multiple treatment options and the patients exert influence on the treatment they receive, rising above the clutter in the pharmaceutical industry has become all the more challenging. Thus, healthcare companies today need to put more effort into creating the marketing capabilities they need to thrive in this new, competitive environment.
As marketers, you would already know that the differentiating variables move across products, services, personnel, channel, and image. Though why should you adopt differentiated marketing? To gain a sustainable competitive advantage, high top-of-mind recall, improve stickiness, and loyalty by reaching a wider audience, elevating HCP satisfaction and overall brand value.
Simply put, differentiated marketing is a personalized communication plan defining how your brand exceeds the competition and attracts higher HCP appeal by creating marketing efforts that resonate with two or more target HCP segments.
Product differentiation has been the core business strategy of healthcare companies for decades, including new dosage forms, new indications, new drug delivery systems, and more! Although, even substantial breakthroughs in the pharmaceutical sector are short-lived due to the swift entry of three to four new drugs from the same therapeutic class. Therefore, creating a distinctive marketing strategy that transcends the product, develops a long-lasting competitive advantage through high brand recall and boosts ROI is imperative.
Factors of a differentiated marketing strategy revolve around 42 parameters from the 7Ps of marketing (ref image below), Although there is one key element that cannot be overlooked. Keep reading!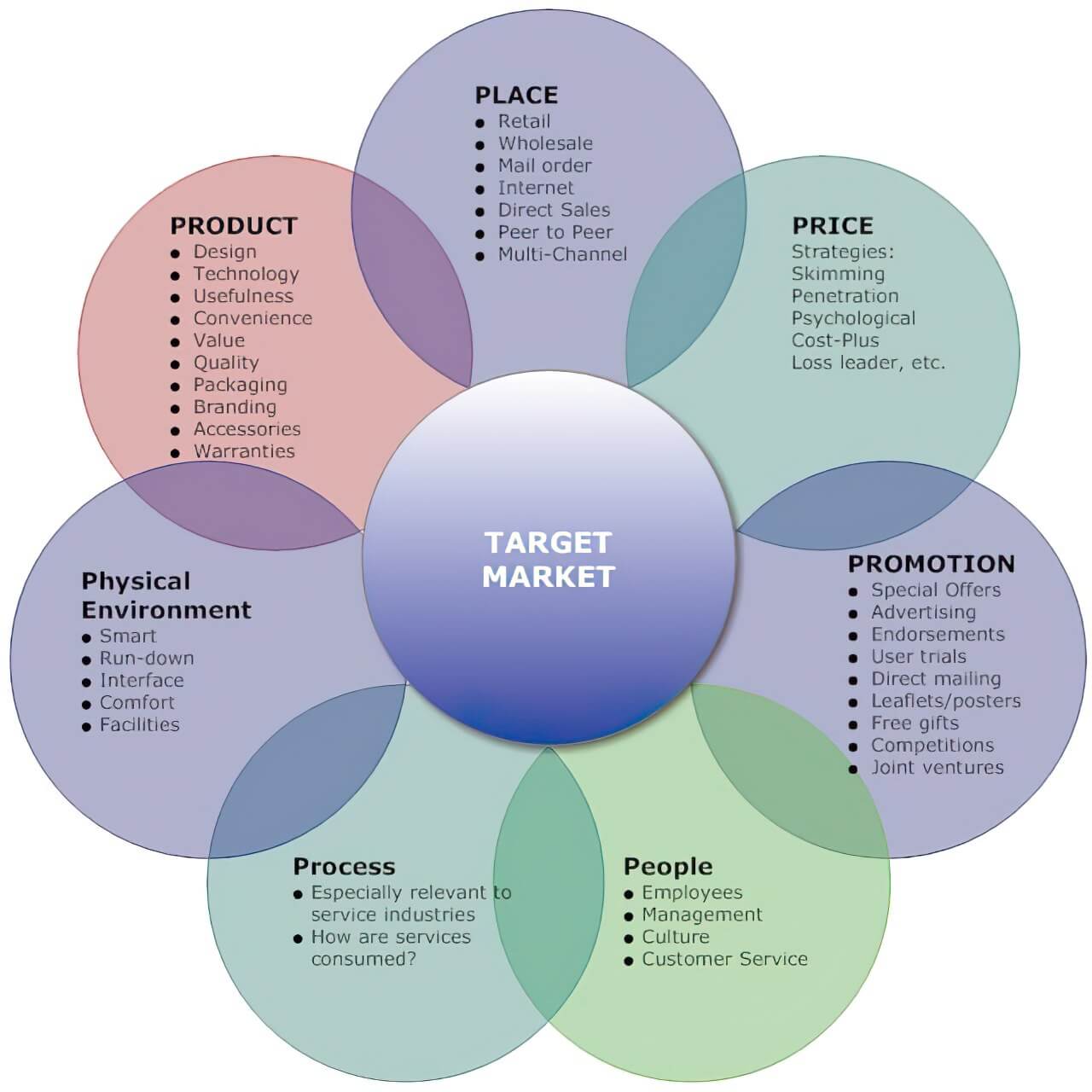 HCP Insights
To build a foundation for any marketing strategy, adopting an HCP-centric mindset that goes beyond the conventional ways and unravels the actual needs is paramount. What if we told you that learning about HCP trends and their psyche is no rocket science with the Docplexus? 100+ healthcare companies have built a strong competitive presence with actionable insights and analytics powered by one of the largest online communities of 3,80,000+ verified doctors across 99+ specialties.
To give you a real-life example, one of our industry partners from a leading nutraceutical brand wanted to gauge doctors' perceptions of pediatric nutrition supplementation. So, we conducted brand perceptual mapping across their primary and secondary target therapy areas. The deduction? The competition was not against the competitors in the market but was with the preference for homemade meals – an untapped market space for our industry partner.
Features and benefits of differentiated marketing in healthcare
Creates value – Differential marketing helps your target HCPs learn about your brand's unique value proposition that makes your brand distinguished among competitors. For example: Moving over product and also factoring in the patient-centric approach towards a healthier tomorrow.
Drives brand loyalty – When doctors think about your brand, they will remember exactly what features and services make you better than the others and they will be more likely to choose your brand each time. Furthermore, loyalists will also refer your brand to their peers, Helping you gain word-of-mouth promotion.
Builds a competitive edge – By highlighting the prime benefits and differentiated customer experience of your brand, the consumers start perceiving your brand as one which is unique and does not have any substitutes, thus providing you with a competitive edge.
Elevates HCP experience – Differentiated HCP experiences can be easily accomplished through neutral platforms like Docplexus that helps pharma marketers learn about doctors' preferences and engage different HCP cohorts with interactive content formats.
Top three ways to create differentiated doctor experience using digital marketing
Gather HCP insights
It is crucial to constantly strive to learn about the shifting mindsets of your target doctors if you want to remain relevant to them. Therefore, learning about the evolving perspectives of HCPs can help you identify common challenges, queries, and knowledge gaps to create a foundation for your next brand marketing strategy.
Engage HCPs when and where they are likely to take action
Create short and crisp formats to engage them on neutral platforms that they trust to stay informed and interact with their peers. Say you want to ascertain their awareness level of your brand, you can simply create brief polls / surveys that can be taken <1 min or if you want them to learn about a technological advancement, then host a LIVE surgical demonstration.
Create personalized campaigns
After learning about their current awareness level, knowledge gaps and pain points, create a personalized campaign for this subset of HCPs answering to their most imperative need of better patient outcomes and how your brand can help achieve this objective.
Key features of differentiated marketing in healthcare:

Consistent brand marketing practices
Different strategies for every specialty
Sustainable competitive advantage in the market
How can Docplexus help?
Docplexus can help you decode your target doctors' mindset through our AI and machine learning insights to learn about the current market scenario, digital behavior, and the future landscape in your target therapy. Plus, support you with a laser-focused digital marketing strategy that yields brand loyalty, trust, recall, and positions your brand a step ahead of your competition.
A well thought-out product differentiation strategy can help your company and brand stand out from the crowd.
Need help in finding out what makes your brand distinct, then explain how those attributes benefit the consumers (i.e. patients). Share your details through the contact form below and our business intelligence team will connect with you shortly!
Request Platform Walkthrough
Comments