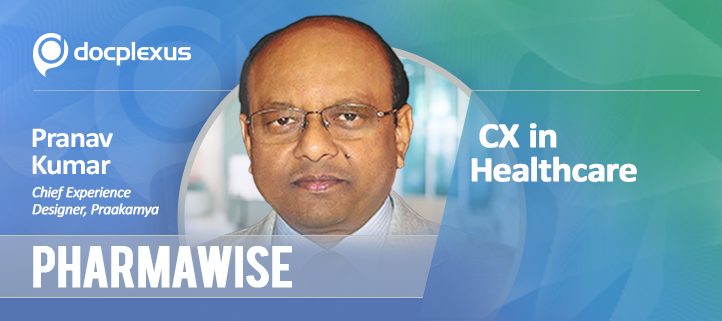 As a part of

PharmaWise, our exclusive blog interview series featuring pharma industry veterans, we spoke to Mr. Pranav Kumar, Chief Experience Designer, Praakamya, on the role of Customer Experience in Healthcare: Pharma Perspective.

 

The interview gives insights into:
Key factors on moving from a product-centric to a customer-centric mindset

Indian pharma industry's standing in holistic CX

How to offer the best engagement experience

Top 3 CX metrics that should be monitored

Major trends in the CX space

CX's role in boosting brand advocacy among HCPs

How a customer-centric approach helps in a product launch and more!

Interviewer: After a rich career spanning 23 years in leading Pharma organizations, you started your own venture in the Customer Experience (CX) space. What led you to this decision?
Pranav: I got extensive opportunities to understand pharmaceutical businesses, patients and doctors during my long stint at Cipla and Dr. Reddy's in various functions. I had worked in sales management, marketing, new product launch strategy, scientific S-team, and had successfully led many innovations and growth projects. Before I started my venture, I was leading CRM, customer engagement and CX functions. I was privileged to conceptualize and execute many customer-focused growth ideas, experiments, and initiatives. In due course of those assignments, I got exposed to global practices, trends, and technologies in CX. Along with my degree in journalism and mass communication, I have experience in public relations, mass media reporting and editing as well. In my 50th year of life, I thought to put all my learning together and start consulting healthcare organizations, pharmaceuticals and life science companies including startups, to make a larger impact. I have always wanted to make a big difference through alleviating human suffering and spreading smiles around. CX promises 'wow' experience for patients, prescribers and firms, hence is right for me.
Interviewer: What should be the key considerations for Pharma marketers looking to shift from a product-centric to a customer-centric mindset?
Pranav: Tell me the name of an industry in which a customer makes purchase decisions not once or twice in a year, but 50 to 70 or even more times in a single day, and does so in his or her entire professional life. All pharma marketers will agree that relationship with prescribers plays a pivotal role in getting a brand preferred over other available alternatives. In the branded generics market like India, there are several brands of the same molecules and several molecules indicated for the same disease condition. It is like competing against clones. What can differentiate you from the lot is, the 'customer experience' for prescribers and user experience for patients.
If you understand the full context in which prescribers and patients use your product or services; and design a memorable experience at each customer touch point, your offering would resonate more than that of your competitors. It is said that commodities are fungible, goods tangible, services intangible, and experiences memorable. All living beings come back again and again to repeat a memorable experience. This drives mutual respect, trust and eventually loyalty. Pharma should strike the right balance between product focus and customer-centricity. It is not about shifting focus from the product; it is about building a great product and associated services around your customers.
Furthermore, with price regulations by NPPA (National Pharmaceutical Pricing Authority) getting stricter and wider, the Indian pharma industry is struggling for bottom-line performance. You will agree that acquiring a new customer is always costlier than retaining the existing one. CX works with the approach of CLV i.e. customer lifetime value. It opens a new perspective towards investing in mutual relationships and shifting from a transactional to strategic relationship for long-term win-win business. It is about getting more shares of existing customers' wallets rather than looking for new customers. New customers will anyway get attracted by 'word of mouth' PR from existing customers. CX adds 'ease', 'comfort', 'trust' and smiles in customers' lives when doing business with a company. Consequently, it generates customer loyalty.
Interviewer: Where does the Indian pharma industry stand in terms of holistic CX?
Pranav: My observation is that the pharma industry has yet not leveraged the possibilities of growth keeping customers, patients and doctors at the centre. Most people understand something different when they refer to customer-centricity. CX, apparently, looks very obvious and easy to many pharma professionals. Brand managers are obsessed with their brands, sales managers are always on toes doing their monthly target blinkered by quarterly incentives. Though prescribers are routinely offered various kinds of literature, journals, books, trial papers, international speaker programmes, CMEs, and many services; all these are focused on a particular brand or a molecule or a set of these.
Some pharma companies are making efforts to offer something directly to patients as well, but these all are product focused and narrowly planned. I see these as islands of offerings of what marketers 'believe' is right for their customers.
I see the scope of doing a lot here – to really make customers happy at all occasions and add value to healthcare outcomes as well. I find this fascinating to explore and make a meaningful difference by what I call "spreading smiles".
Senior leaders should pay due attention to holistic CX and work on an organization-level mindset shift towards customer-centricity, putting it on high priority. Brand managers should, at least, start experimenting with 'Brand-Customer Experience' in new product launches and orbit-shifting strategy of mega brands. Breakthrough performance is guaranteed as proven by pieces of evidence internationally. I am sure, sooner than later, the pharma industry is going to embrace CX as a core growth strategy.
Interviewer:  Indian pharma companies have jumped onto the digital bandwagon with proprietary apps and social media handles. What advice would you give marketers looking to explore the digital channel?
Pranav: You rightly said that most pharma companies today claim to be into digital. In my conversations, most pharma executives were apparently positive about digital. But there is a big gap in the understanding of the full digital ecosystem. Remember the story of the elephant and all blind villagers; individual executive of all functions should have a full view of the digital ecosystem. Putting an app or few for patients and prescribers is not what it takes to harness the full mileage of the digital revolution. It requires a digital transformation approach in all that you do, including non-digital activities.
Your customer must get a unified, consistent, memorable experience while interacting with your rep, interacting with your social handle, or attending a webinar. Pharma must plan and leverage all types of media – owned, earned, and paid, in right proportions, to get the best value of them. A comprehensive approach must be followed; pharma must be present in all media where their customers are and engage with them giving a consistent experience using omni-channel strategy. Marketers should leverage the power of digital channels to communicate with their customers via sharp individualization.
Interviewer: Today's prescribers are highly empowered, thanks to easy access to multiple online resources of medical information. At the same time, they are busier than ever, avoiding face time with MRs. In this scenario, how can marketers offer them the best engagement experience?
Pranav: In the whole history of medical science, medical information was never available as easily and rapidly to physicians and people as it is at this time. Access to information is no longer a competitive edge; the internet and mobile accessibility have democratized it. When a new clinical trial is getting presented anywhere in the world, clinicians practicing even in the remotest village can view it live and actually can get their queries resolved in real time. When an MR goes to the doctors with the CD or printed version of this information, no wonder he doesn't get welcomed the way he used to one or two decades ago. A survey by Docplexus has shown that physicians are no longer looking for medical updates through MRs.
This is the time marketers should understand the customers' context and their digital life; engage with them in their digital as well as the physical world in an unbiased way. Instead of sharing a new clinical trial the next day, they can enable doctors to know its interpretation from national and regional key opinion leaders to whom they look up to, on the same day, through an independent platform like Docplexus. This should be supplemented with well-orchestrated communications through an MR, individual mail, social media, etc. The corporate medical team must engage with doctors by responding to the comments on social platforms in real time. Marketers should deploy VoC i.e. Voice of Customer mechanism to gather customer's voices and understand customers on an ongoing basis. Social listening is a simple digital tool to know what is being talked about your brand. The question is, are you listening and acting upon it to amplify the positive voices and resolve criticism? Something like this requires a total transformation in mindset and holistic understanding of the full customer journey.
CX for pharmaceuticals incorporates PX i.e. patient experience as well. Patients interact with your products, formulations, and brands. Right PX approach has the potential to improve right dosing, adherence and consequently significant improvement in health care outcomes.
Interviewer: What are the top 3 CX metrics that pharma marketers should monitor?
Pranav: There are several metrics to measure the impact of CX; each one has its own merit and limitation. Pharma industry needs to deploy metrics which not only give a measure of CX impact but also lend insights on course corrections for individual intervention and experience design deployed. NPS i.e. net promoter score is the most widely used parameter across industries. In the pharma industry, prescription research is a very accepted measure of the impact of any marketing campaign. Other metrics I would recommend are Average Revenue per Customer (ARPC) and Up-Sell and Cross-Sell Rate. These need to be done in concurrence with customer lifetime value (CLV) metrics.
Interviewer: What major trends do you foresee in pharma marketing from CX perspective in coming days?
Pranav: Pharma has been embracing CX globally. As the Indian pharmaceutical industry has started experiencing pricing pressure and an increase in marketing expenses, a paradigm shift in the traditional marketing approach is needed. Stricter regulations like UCPMP compel companies to think differently. To get more return per rupee of marketing budget, you need to be innovative and strategic. Technology companies are driving CX with very robust cloud platforms specially catered to pharma and life science companies.
Even a small pharma company can now afford these subscription-based technologies and services in a cost-efficient way; CX is not the luxury of big corporations anymore. I have been driving CX in startups and entrepreneurs. CX adoption trend will pick-up by big pharma companies and small individually owned firms, simultaneously growth of CX is already being catalyzed by top technology companies like Adobe, Oracle, Gartner, IQVIA, Forrester, AWS, McKinsey & Co, Accenture, ZS, Freshworks, Zendesk, etc. just to name a few.  At the same time, startups like 'Customerguru' are making a phenomenal difference in CX growth in a rapid way. We at CXPA i.e. Customer Experience Professional Association, are putting all our efforts in making the industry aware of its possibilities and upon progressing professionalism in CX practices. You will see that in the next couple of years, most of the progressive pharmaceutical companies will embrace CX as their core marketing strategy.
Interviewer: What role does CX play in boosting brand advocacy among HCPs?
Pranav: Word-of-mouth is the most effective marketing, be it common man or HCPs. Unlike the customer service function which addresses complaints, CX proactively designs a memorable experience in the full stretch of the customer journey, each time. As marketers are mindful of the CX at each touch point, they would devise a mechanism and motivation for customers to share their 'wow' experiences. When a customer shares his or her positive experience, his conviction about the brand goes up. Their fellow doctors who might not be prescribers will form the first positive impression of the company and brand from this discourse. Brand managers should identify these leads and reach out to them through an omni-channel strategy. Patients' positive brand experience, if talked about in the close community or social media, will improve brand advocacy by HCPs.
Interviewer: How can a customer-centric approach help marketers in a product launch?
Pranav: Many people think that CX has a role only in branded generics scenarios. Actually, CX has been proven very effective in the launch of an innovative product as well.
A study conducted among 600 immunologists in Europe and the United States indicates that when prescribers are fully satisfied with their journey for a particular drug and with the pharma company's contribution to it, they are more than twice as likely as dissatisfied ones to prescribe it. In this study, the average likelihood to prescribe an innovative drug by dissatisfied prescribers was 10% as against 17% among prescribers satisfied with the prescription journey of the drug.  Furthermore, the likelihood to prescribe increased to 27% among prescribers who were satisfied in the prescription journey and also satisfied with pharma representative interactions. This is a huge impact of CX in a new product launch.
There is a complete process of leveraging CX for new product launch success and it should start well before the actual product launch in the market. The context of potential customers and prescribers need to be understood deeply through ethnography research. User experience design approach will help to design an augmented product for the ease in use and improved effectiveness of the formulation. It is a thorough process incorporating marketing mix decisions. Marketers should elaborately map the customer journey and carefully design physical and digital experiences to maintain consistent peaks in CX at all touch-points.
Interviewer: What role do online doctor communities like Docplexus play as a part of pharma's comprehensive customer engagement strategy?
Pranav: Docplexus has emerged as a very engaging platform for the doctor community. It can play as an independent platform for sharing HCPs' 360-degree view on certain medical procedures, therapeutic options and expert opinions. For pharmaceuticals, it is a great platform for content marketing; marketers can reach lakhs of potential customers very effectively as well as efficiently. One should make a systematic campaign plan around a disease or therapeutic options to give a holistic view. Online courses in Docplexus can form an integral element of overall medical education initiative or digital marketing strategy by a pharma company. I do not know any other authentic, validated and trusted platform for the medical community as of now having such a huge registered user base in India. Not recognizing its potential by pharma professionals would be a myopic vision.
Interviewer: Thank you, Pranav, for the insights.
Pranav: My pleasure!
---
Conclusion: Positive customer experience will play an important role in building brand loyalty and advocacy for Pharma in the coming years. Market leaders will need to create a balance between HCP experiences and patient experiences, as it is the key to drive brand advocacy. Further leading to word-of-mouth promotion among the HCP community.
Need help in creating a rich HCP experience? Let us guide you!
---
Docplexus – Pharma's Trusted Marketing Partner
Comments